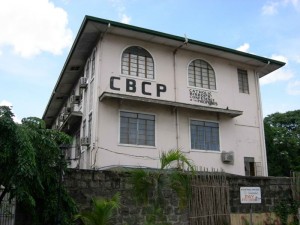 It could have been the calls for civil disobedience. Or it could have been the threats to abort RH talks. Maybe it was the lengthy pastoral letter rejecting the RH Bill. Or maybe it was the mandatory prayer campaign (oratio imperata) launched yesterday against the RH Bill. But whatever it was that the CBCP did to threaten Malacanang, it worked.
"Presidential spokesperson Edwin Lacierda said on Monday that the Palace has not yet completed its dialog with Catholic bishops on the responsible parenthood bill it has been drafting and has decided not to present the measure yet to congressional leaders in the Legislative Executive Development Advisory Council meeting scheduled for February 28." (emphasis mine)
Does this mean that all the CBCP needs to do to stop the RH Bill is to delay their dialogue with Malacanang? They've already met twice, which is two more meetings than is necessary. The RH Bill (or some form of it) has been stuck in Congress for more than a decade. All the arguments for and against it are already known. What is left to talk about? And haven't they made it clear that their position on contraception is non-negotiable?
And to further distance Malcanang from the RH Bill, Lacierda said that "the Palace had nothing to do with the consolidated responsible parenthood bill now set for plenary debates in the House of Representatives."
This month, CBCP celebrates Pro-Life month. Several activities are planned, but the first event alone is ominous: "a mass on February 1 at 12:15 at the North Wing of the House of Representatives to be presided by ECFL chairman and Pampanga Archbishop Paciano Aniceto." With the mass in Congress, the recent statement from Malacanang, and  another secret meeting scheduled on February 28, things aren't looking good for the RH Bill.
All of this is bad news, especially after our recent victories in the battle to pass the RH Bill. But we must keep fighting. And our fight continues tomorrow:
Freethinkers assemble! The Reproductive Health Advocacy Network (RHAN) is asking for our help in mobilizing people to attend the House Appropriations Committee Hearing on the RH Bill to show our congress people the support that the RH Bill has.

Date: February 8, 2011 (Tuesday)
Time: 0830-1130
Where: House of Representatives (Batasang Pambansa) (Google Map), Ramon V. Mitra Hall, Rooms 7 & 8
Attire: White or purple, no political messages please!

There is another hearing in the Senate on the same day, it would be awesome if you can are able to attend both hearings.

Date: February 8, 2011 (Tuesday)
Time: 1300
Where: Senate of the Philippines (Google Map), Senator Padilla Room, 2nd Floor
Attire: White or purple, no political messages please!