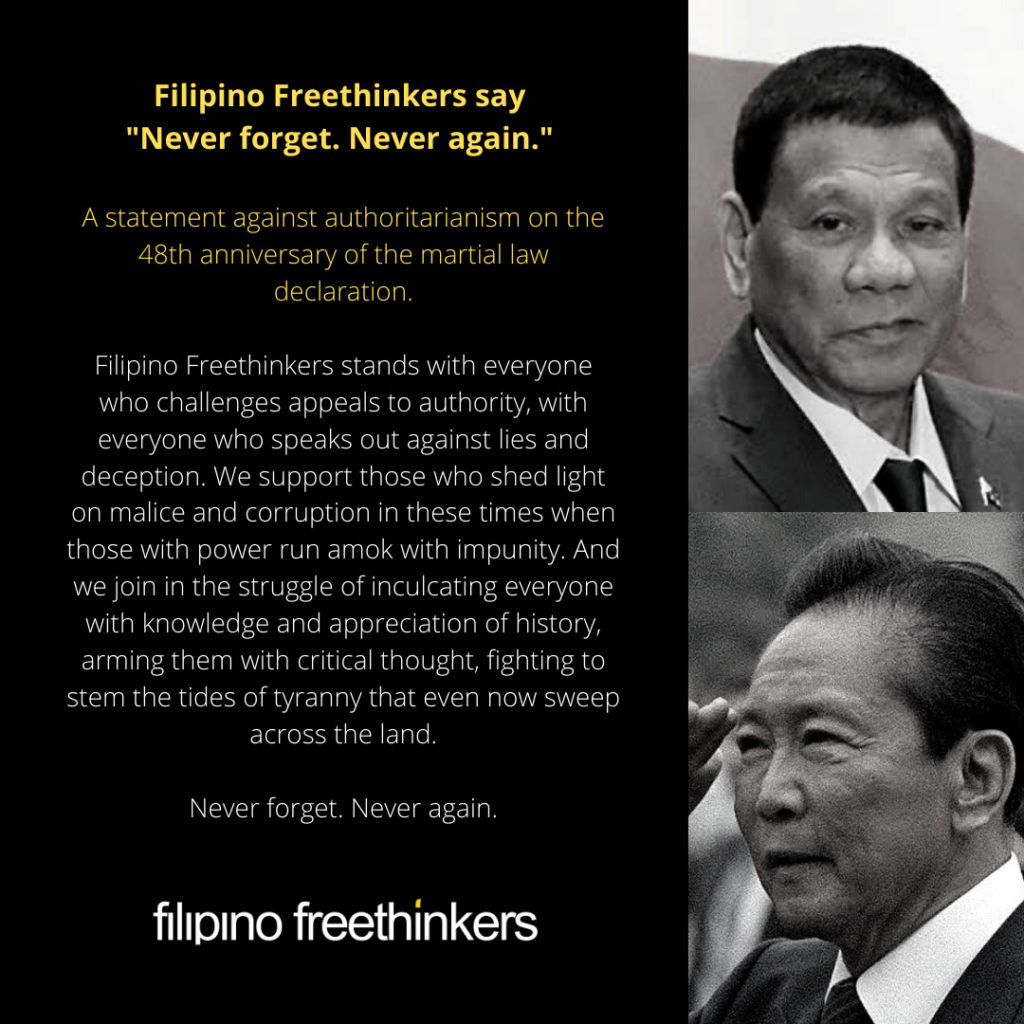 A statement against authoritarianism on the 47th anniversary of the martial law declaration.
On this day 48 years ago, Ferdinand Marcos signed the infamous Proclamation 1081, declaring Martial Law, and plunging the Philippines into one of the darkest periods of our history. Despite it being so long ago in the past, countless parallels can be found in our present. The Duterte regime has brought with it extrajudicial killings, the plundering of public coffers, targeted incarceration of political opponents, nepotism, a murderous attitude towards dissent, silencing of the free press, a clear double-standard when enforcing the law, the normalization of violence, the curtailing of fundamental freedoms, and much more. This administration has also made no effort at hiding autocratic tendencies, having given the late dictator a hero's burial and even his very own holiday.
"Authoritarianism does not let people decide," said Jose W. Diokno. "Its basic premise is that people do not know how to decide. It promotes repression that prevents meaningful change, and preserves the structure of power and privilege."
With this in mind, let us use our collective power to freely think, freely speak, and freely act to ensure that these freedoms remain intact. Together, let us resist and persist in the face of dictatorship so that these freedoms may one day be shared by all.
Filipino Freethinkers stands with everyone who challenges appeals to authority, with everyone who speaks out against lies and deception. We support those who shed light on malice and corruption in these times when those with power run amok with impunity. And we join in the struggle of inculcating everyone with knowledge and appreciation of history, arming them with critical thought, fighting to stem the tides of tyranny that even now sweep across the land.
Never forget. Never again.