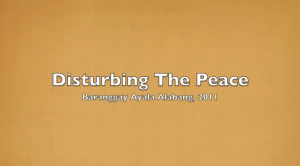 My name is Jay Ignacio, an atheist who used to be a recording artist with Sony Music back in 1996. I am a founding member of the Silly People's Improv Theatre (SPIT). I worked for Cheche Lazaro's Probe Productions, Inc. back in 1997; taught Recording Technology and Sound Design at College of Saint Benilde; worked as Executive Chef for Chef Cuisine Catering Company, in charge of their Italian menus. Now I am venturing in to documentary film making, and my first project is called "The Bladed Hand: A Documentary On The Global Impact Of The Filipino Martial Arts".
I am in the final editing stage of this docu which I plan to premiere in Manila by July this year, but I was sidetracked by recent events in my neighborhood. I spent 8 years in Southridge, from Grade 4 to 4th Year High School and am no big fan of Opus Dei and the Catholic Church.
I'd like to share with you two videos I made pertaining to the now infamous Ordinance #1-2011 that our Baranggay Most Holy have decided to come up with, and I hope the rest of the country does not follow in the footsteps of these oh-so-saintly Council Members who have violated the law in the name of Religion.
Enjoy!