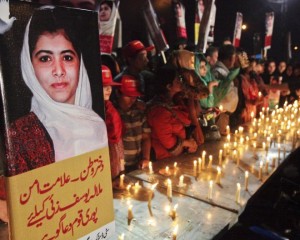 A few weeks ago, Taliban gunmen stopped a bus carrying students home from school in Pakistan's Swat Valley, singled out Malala Yousufzai, and shot her.
Her crime was advocating for women's education – which the Taliban banned – and for openly speaking out against their atrocities through her blog.
The good news is that as you read this, Malala is on the road to recovery, while the Taliban are being rightfully condemned for their act of brutality and cowardice; it says a lot about how insane a group is, when they think a girl who just wants to go to school is a justification for them to shoot people in the face.
But as I look at the outrage, the sympathy, and at the end of it all, the hope getting mixed into Malala's story, and I look at the reactions from the Philippines' own community at the whole thing – which is thankfully supportive – I just have to ask…
Are we really any different?
Because in their own way, the women of the Philippines are under threat from bearded, out-of-touch, religious conservatives who abide by silly religious laws, and run around in sillier robes. These people are intent on stifling not only women's access to quality education, but also their ability to simply speak up and criticize them.
And the magic is that unlike the Taliban, they don't have to whip out a gun to get the job done. So how did they do it? Let's look at some of their more recent examples:
1. Resorting to erudite rhetoric that celebrates the fact that their morally superior university doesn't put up with liberal nonsense such as dissent, free thought, critical thinking, or scientific facts. God was apparently so touched by this show of devotion that he forgot to bless their last game.
2. Legislators bravely stating the truths of the RH Bill while in senate, buying time for their side, not to mention creating a new, proudly Pinoy meme along the way.

3. Fearlessly speaking against the Magna Carta of Women, which removes their god-given right to eject pregnant students from getting a proper education. Who has a time for school (much less a decent job), when you have to raise a kid before you've turned 18, right?
4. Righteously defending their right to condemn the evils of lesbians, a fine trend that they and like-minded predecessors have done for decades.
5. Selflessly sacrificing whatever esteem and respect they had left to support the cybercrime law under the guise of defending people against bullying. After all, calling out an anti-gay/anti-woman bigot for being an intolerant asshole can be painful to their self-esteem.
6. Heroically citing that none other than our national hero, Jose Rizal, would never condone providing women with better access to family planning education.
Who needs bullets when you have a few well-chosen words and the support of powerful, religiously devout, but ultimately imbecilic leaders in politics and educational institutions to shape society according to your whims?
I'm not writing this to reduce any of the much-deserved attention that Malala is getting for herself and a woman's right to education in Pakistan. What I am simply saying is that as we read about what happens to her, we shouldn't dismiss it as just a story being told in a foreign land thousands of miles away.
It's similar to the story of our women here, except that the attempt to murder them comes in inches. The perpetrators do this through through the denial of a woman's right to proper academic and reproductive education, and through the poisoning of society's opinion about providing better awareness regarding their rights.
And that is just as deadly – if not deadlier – than a few grams of copper-jacketed lead.
"In A Myriad Small Ways You Have Hastened The Deaths Of Many. You Do Not Know Them. You Did Not See Them Bleed. But You Snatched Bread From Their Mouths And Tore Clothes From Their Backs." – Terry Pratchett, Going Postal