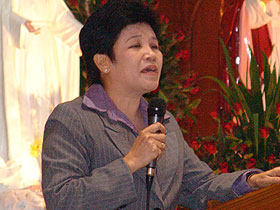 It's been a while since we've last heard from Dr. Ligaya Acosta, who drew acclaim for her sold-out performance at last January's RH Bill forum at the Ateneo School of Medicine and Public Health. Everybody still remembers how her crazy antics had the audience rolling in the aisles…
Wait, what do you mean that was serious? Oh my.
In any case, Dr. Acosta's at it again, but instead of more aneurysm-inducing presentations on the Reproductive Health Bill, she's set her sights on the gay community. Ligaya goes through great lengths in her rhetoric to discuss the rising trend for gay rights, before attempting to dismiss its legitimacy.
I've taken the liberty of correcting her more salient points where necessary. After all, much like her, I would prefer to hear the truth of the matter 😉
Curing the "Disease"
Dr. Ligaya Anacta Acosta, regional director of Human Life International (HLI) Asia and Oceania told delegates to the "Philippines for Life" Congress that there is a need to alert the public about the campaign to promote homosexual practice, and to call people in all sectors— especially us in the Catholic Church — to make a firm and appropriate response and address different approaches available to men and women of homosexual inclination who wish to leave… the life of active homosexuality."
Said "appropriate response" includes the use of conversion therapy from groups such as the National Association for Research and Therapy of Homosexuality (NARTH), which claims that it has means of curing homosexuality, as if it were a mental disorder.
The problem is, gay conversion therapy has long been debunked by the greater medical community. The British Medical Association (BMA) has declared conversion therapy to be harmful to patients, while the American Psychological Association (APA) has removed homosexuality from their list of mental disorders all the way back in 1975.
You're probably wondering why a good doctor like Acosta would be advocating gays to undergo quack treatment to "cure" their condition. *Hint hint*: She's not a medical doctor. Acosta's HLI profile indicates that she has a Doctorate in Management, and Bachelor Degrees in Law and Social Work. Note the lack of certification in psychiatry, or even a graduate degree in psychology.
Discrimination? What Discrimination?
Quoting from the Catechism of the Catholic Church, she reminded everyone that healing can be and has been found after living a homosexual lifestyle, and that "every sign of discrimination in their regard should be avoided."

Acosta noted that there is an agenda to advance homosexual rights by presenting gays as a discriminated minority.

Are homosexuals really discriminated against? Whether or not the answer is yes, presenting themselves as victims of oppression is one of the steps in advancing homosexual rights, ultimately to include the recognition of such rights by the law, she said.
Let's humor Ligaya's question, and see what a few minutes of Googling turns up:
And these are just the Catholic cases. I have yet to cite the more recent examples from around the globe, such as Nigeria's recent gay marriage ban, or Uganda's "Kill the Gays" bill (which was in turn linked to anti-gay Christian fundamentalism.
So despite Ligaya's baseless posturing, we have plenty of evidence to indicate that not only are gays being discriminated against, but that one of the groups responsible for this discrimination is the RCC itself. At least we now know why she's being so evasive.
Starstruck
"Are they really oppressed? We see many gays in the media… in fact, they lord it over [in the industry] so how can they say that they are being oppressed?" Acosta asked a group of over 200 pro-life delegates.
While it is true that the appearance of gays like Vice Ganda in Philippine cinema can be seen as progress, it is also equally true that gays are still a discriminated minority that are the target of hate crimes. These two facts do not cancel each other out. As per the Philippine LGBT Hate Crime Watch, At least 32 were killed in 2011, and another 34 in 2010, with the victims being targeted because of their sexual orientation.
Following Ligaya's logic, it'd be like saying it's alright not to give a damn about the chronic problem of domestic violence our women face, or that 11 of them die each day because of birth complications, because we have Sarah Geronimo, KC Concepcion, Kim Chiu, and Shamcey Supsup in the spotlight.
Illegitimate
 Being true to the pro-abortion, pro-gay rights monicker given to him, the president has established an LGBT Month (LGBT stands for lesbians, gays, bisexuals and transgenders), appointed homosexuals as key officials in government, and carried out other measures that have ended up bestowing illegitimate rights on homosexual members of society.
What Acosta calls "illegitimate," most people see as progress to a more tolerant society that grants gays the same rights as any other person. They're in the same vein as the repeal of Don't Ask Don't Tell, the legalization of same-sex marriage in states such as New York, and the enactment of more comprehensive anti-discrimination and anti-bullying laws.
None of these measures grant any "special" or "illegitimate" privileges to the LGBT community. At the very least, they provide them with same rights as everybody else, and ensure that they don't have to live in fear of being discriminated against.
Ligaya's attempt to make the matter of gay equality an issue is tantamount to her crying over the fact that blacks can finally sit anywhere they damn want on a bus.
Gay Recruitment
"Hindi lang po 'yan sa US because the policies of the United States of America affect the whole world… It's actually also part of population control. If they cannot force us to legalize abortion or massively use contraception, then [they] promote homosexuality as an alternative lifestyle. Start at kindergarten… and therefore we have to know what is the agenda."
Yes. Because as everybody knows, going gay is the perfect alternative if your girlfriend refuses to let you do it because you're not wearing rubber.
For the readers who've seen the Harvey Milk film, Ligaya's "Gays recruiting your children in schools" argument should be familiar. It was the same mantra chanted by the Save our Children coalition founded by singer and notorious anti-gay bigot Anita Bryant.
The coalition was established to help repeal a Florida ordinance that made it illegal to discriminate based on an individual's sexual orientation. And much like Bryant, Ligaya has yet to present any evidence that gays are indeed turning our schools into recruitment centers for their cause.
New World Order
"I have to tell you that there is a huge homosexual network all over the world, and although constituting a minority only of less than 3% of the population, we have to know that the homosexual movement is highly organized and very well-financed," Acosta pointed out.
For once, Ligaya is right. Sort of.
There are a growing number of movements around the world that are advocating the eradication of discrimination against the LGBT community. One of the biggest being the United Nations, which passed a resolution this year declaring equal rights for all people, regardless of their gender identity.
There's also the It Gets Better Project, established to provide moral support for LGBT teens who are being bullied and discriminated against in school because of their sexual orientation.
By contrast, Catholic-affiliated anti-gay groups such as the National Organization for Marriage (NOM) has been losing legal ground over its accusations of experiencing harassment while advocating gay discrimination; One incident involved one of its members being given mean looks as he handed out anti-gay pamphlets.
And if Ligaya really wants to push the matter of highly organized and well-funded groups with an agenda, she doesn't have to look further than her own Human Life International. Over its history, HLI has been knee-deep in scandals regarding the accuracy of its research and its blatant…well…insanity.
Here's a few choice words from Father Thomas Euteneuer, HLI's president from 2000 to 2010:
Fundamentally, Harry Potter indoctrinates young souls in the language and mechanics of the occult. The fact that the fake curses and hexes are not able to be reproduced because the "ingredients" are pure fantasy is beside the point. Curses are not pure fantasy. The fact that "curse" as such, and other elements of witchcraft, are presented in a glorified state throughout the Harry Potter series means that our kids' minds are being introduced to and imbued with occult imagery.
Euteneuer subsequently left HLI, under a cloud of suspicion that he had sexually abused a woman he was performing exorcism duties for.
If there is anything we can take away from people like Ligaya, it is that they are running scared. They are terrified of the fact that in the past few years, several landmark decisions have been made that are slowly eroding the layer upon layer of lies that the Catholic Church sits upon.