Hey! Did you know that the CBCP has their own website? It's true! They post really interesting articles on it too, and I find out so many great and wonderful things! Like how it's okay for a doctor to make blanket statements that contraception is dangerous (no ifs or buts) to bolster the CBCP argument against the RH bill. Or how academic freedom in Catholic universities is great and all, but that academic freedom stops when it comes to dissenting against the truth as espoused by the Catholic church.
But when I recently visited their website, what really struck me was a little animated banner they were running on one side. An animated banner that had a quote from Jose Rizal and his image as well, fighting for the dogma of the Catholic church against the Reproductive Health Bill.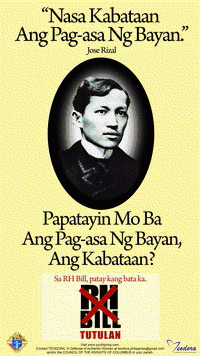 It's an interesting little banner, because in the 1950's the CBCP was fighting one of these pesky laws that we have in our nation, Republic Act 1425, or the Rizal Law: a bill that was enacted to teach the life and writings of Jose Rizal to all public and private school students in the Philippines.
The CBCP resented having to teach the life and work of someone who they percieved to be anti Catholic in their private Catholic schools. They seemed to have fought the Rizal law as vociferously as they are fighting today against the RH bill. The CBCP brought in political proxies in the form of Senators to fight the Rizal Law, a tactic that they still deploy in fighting the RH bill.
In that fight, the CBCP issued this statement against the Rizal Law. I'd like to excerpt a passage from that statement here (emphasis mine).
In these two novels we find passages against Catholic dogma and morals where repeated attacks are made against the Catholic religion in general, against the possibility of miracles, against the doctrine of Purgatory, against the Sacrament of Baptism, against Confession, Communion, Holy Mass, against the doctrine of Indulgences, Church prayers, the Catechism of Christian Doctrine, sermons, sacramentals and books of piety. There are even passages casting doubts on or covering with confusion God's omnipotence, the existence of hell, the mystery of the Most Blessed Trinity, and the two natures of Christ.
So here we are, in 2012, with the CBCP fighting the RH bill this time. The CBCP is being insistent on protecting the dogma of the church. And who is one of their champions in this time of great need? Why, none other than Jose Rizal of course! Because of course Jose Rizal is such a great upholder of Catholic dogma! I mean, that's what the CBCP said right?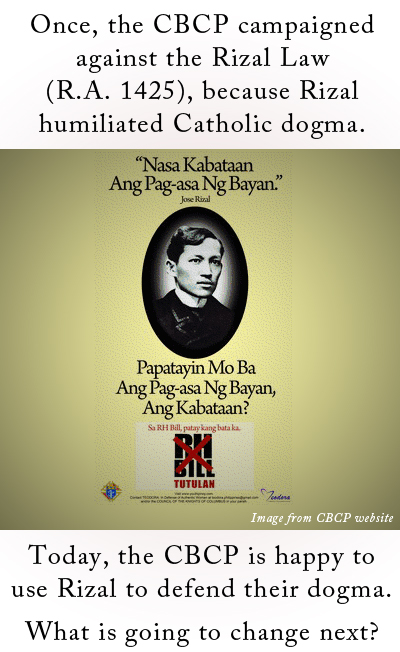 So here we are, in 2012. The CBCP has somehow managed to change their minds about Rizal despite their bawlings about him in 1956. What else do you think they can change their minds on in the future?