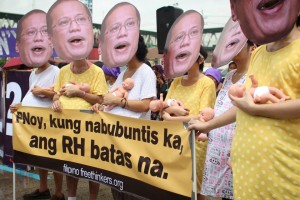 Yesterday, SONA day, a few of us Freethinkers marched down Commonwealth as pregnant PNoys—enormous face masks, pillows for bellies, juggling plastic babies—to allude to the president's negligence towards the passage of the Reproductive Health Bill. Our banner read, "PNoy, kung nabubuntis ka, ang RH batas na." (PNoy, if you could get pregnant, RH would be a law by now.)
We wanted to point out that if our president could literally get pregnant, could experience first-hand the immense hardship so many Filipinas go through raising multiple children on a less-than-meager budget, he'd have stuck to his promise to speed up the long-delayed passage of the bill, and not be the dilly-dallying, passive-aggressive politician he's being now. Give the man a uterus and see if he'll still pander to the bullying bishops of the CBCP.
Later that day, my Facebook newsfeed tittered with reports that PNoy had actually expressed his desire to pass the RH Bill during his SONA. Media accounts and FB friends alike sang praises for the following sound byte:
"Ngayong paubos na po ang backlog sa textbooks, sana po ay maiwasan na rin ang backlog sa estudyante. Sa tingin ko po, responsible parenthood ang sagot dito." (Now that our textbook backlog is growing smaller, I hope that we soon get to avoid a backlog in students as well. In my view, responsible parenthood is the answer to this.)
It was reported that this blip in his speech garnered the loudest and longest spell of applause in the entire event. Some present even gave him a standing ovation. People were ecstatic. People were claiming PNoy had finally put his foot down regarding RH.
But I don't buy it. And neither should anyone else, most especially fellow pro-RH advocates.
By sneaking the term "responsible parenthood" into a statement about education, PNoy remains the dilly-dallying, passive-aggressive politician we've been frustrated with since RH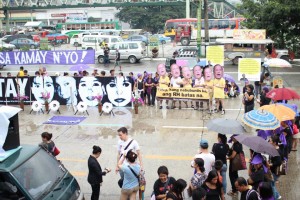 became a LEDAC priority measure last year. Not only did he not elaborate as to why responsible parenthood—itself a watered-down, wishy-washy euphemism for reproductive health—would help with the student backlog, but he also worded the statement itself to be quite safe and retraction-friendly.
In his speech, responsible parenthood was a mere aside to a larger concern. Moreover, the phrase "sa tingin ko po" or "in my view," wraps responsible parenthood in a sheath of self-confessed personal bias. (It's just his own humble opinion; he's definitely not setting anything in stone, so to all the anti-RH out there, don't get all huffy just yet.)
I confess that this last part may be reading too much into things, but regardless of this, what PNoy said still appears very much to be lousy lip service to all the pro-RH begging him to grow a pair. What he said was just a bit of cat nip to tide everyone over for a while. He and his Communications staff likely hoped that the crowd would react the way they did, because this would earn him a respite from all our criticism, would make us temporarily forget that it is partly due to his negligence of the RH issue that the bill continues to be woefully delayed.
Realize that he didn't promise us anything in that speech. In fact,  what he said could very well help to delay the bill's passage even more, as we would spend so much time waiting for something that actually wasn't assured to us.
PNoy should have just said, "I will work to get the RH Bill passed." Straightforward, to the point, definitive, crystal clear.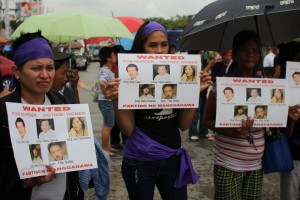 At the pro-RH demonstration earlier that day, the crowd was introduced to a 19-year-old girl who had to take care of her 10 younger siblings herself. Their mother had died upon giving birth to the 11th child—one of the 12 women who die each day from maternal complications. And this 19-year-old girl was pregnant as well. Unless PNoy actually acts on his promise to make the RH law a reality, nothing else from him can assure us that this young girl's plight will no longer be repeated with other women again and again and again.
That so many of us praised this blip in his speech to the highest heavens simply betrays how desperate we've become at this point. We're starting to hear the things we want to hear, and not see the situation for what it really is. We still have quite a ways to go, and until the president actually says–and, more importantly, does–something directly, unmistakably in favor of reproductive health, we have no reason to celebrate anything just yet.
—
Photos c/o Frank III Manuel