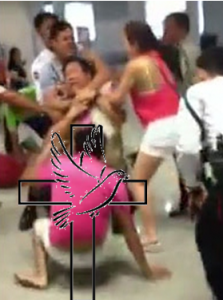 Raymart Santiago, together with Claudine Barreto, close friends, and family, called a press conference yesterday to present undeniable proof of their innocence despite lack of CCTV footage.
In a statement read by Atty. Alex Avisado, legal counsel of Santiago, God corroborated Santiago's recent statements:
"My most precious child, Raymart Santiago, has recently said that I, God, whose name shall not be taken in vain except when one is really, really in trouble, am on his side. This is the Truth.

"I was in Heaven talking to Jesus when I heard Raymart's pious prayer. I appeared in the airport as the Holy Spirit where I witnessed — swear to Myself — Mon Tulfo hurting and harassing Raymart and his family, like the Pharoah persecuting My people. Tulfo totally started it.

"As with Moses, I gave Raymart, the strength to overcome Tulfo's persecution and protect his loved ones. Raymart's strength and righteousness is proof that I was on his side. He is a faithful servant, like Jeremy Lin and Tim Tebow. And also a good actor.
Santiago hopes the statement convinces fellow Christians of his innocence and Tulfo's guilt. "We may not have CCTV footage," said Santiago, "but our faith in God's Word is more than enough. If God is on our side, He can't be on Tulfo's."