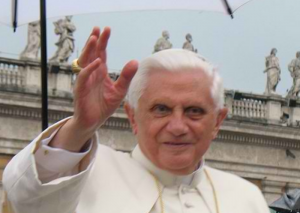 VATICAN CITY — To adapt to the varying needs of Catholics all over the world, Pope Benedict XVI has revised the Vatican's position on secularism, releasing his latest catechism, Contextual Secularism in a Changing World.
According to the Pope, Contextual Secularism ensures that "Catholics get the degree of secularism suited to their particular needs."
In response to the revised guidelines, the Pakistan Catholic Bishops Conference has already demanded that their country implement absolute secularism, a measure previously considered gravely erroneous by the Catholic Church.
"We support the political process without any armed or religious interference," the Pakistan Bishops said in a statement issued in Lahore. "It is imperative to separate religion from state matters."
The Pope also urged the government to repeal theocratic blasphemy laws, which have caused unspeakable fear, suffering, and death to many Catholics in Pakistan, a clear violation of separation of church and state. "Violations of secularism must always be avoided when it harms Catholics," the Pope added.
The actions of the Pope and the Pakistan Bishops are in line with Contextual Secularism, which mandates "that countries wherein Catholics are persecuted for their religion should implement the strongest form of secularism possible." The call for secularism automatically applies to all predominantly Muslim countries.
"We must always adapt to the ever-shifting socio-political landscape," the Pope said. He explained that if a Muslim country such as Pakistan were to become predominantly Catholic, the calls for secularism would stop and be replaced by the appropriate stipulations in Contextual Secularism.
The Pope, however, warns that Catholic countries ban all "aggressive forms of secularism," such as the brand practiced in Britain, especially when secularism lets society freely criticize Catholics, who are a minority in that country.
"To the extent that secularism threatens Catholicism, it becomes anathema." the Pope said. "Secularism should only be used to protect and promote the faith — never to diminish it."
The ban on secularism extends to predominantly Catholic countries. The bishops of Malta and the Philippines have readily embraced Contextual Secularism, which mandates "that countries wherein Catholics are in the majority should defend the government from secularism at all costs."
The Pope stressed the importance of Contextual Secularism, saying that "although Catholics around the world have a similar need for religious freedom, their social and political contexts differ, and so should their experience of secularism."
"They have called for reform in varying voices, and as their shepherds, it is upon us to answer in varying ways."