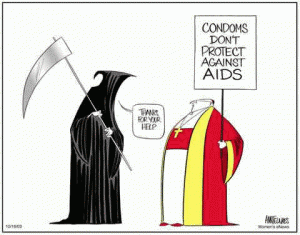 We need to construct a compelling prevention narrative… One that inspires countries to mount permanent prevention campaigns that are socially inclusive, that combat public hypocrisy on sexual matters, that build AIDS competencies, and that systematically promote sexual and reproductive health and rights.

~Mr. Michel Sidibé, UNAIDS Executive Director
In the fight against HIV and AIDS in the Philippines, UNAIDS has found a new ally: CBCP.  In a meeting this morning,  Steve Kraus, Director of the UNAIDS Regional Support Team for Asia and the Pacific, met with Jaro Archbishop Angel Lagdameo. This collaboration might seem like the kind of thing you'd read about in The Onion.
Because this is the same UNAIDS that, in a position statement with UNFPA and WHO, said that
The male latex condom is the single, most efficient, available technology to reduce the sexual transmission of HIV and other sexually transmitted infections.
Condoms must be readily available universally, either free or at low cost, and promoted in ways that help overcome social and personal obstacles to their use.
HIV prevention education and condom promotion must overcome the challenges of complex gender and cultural factors.
And this is the same Church lead by a Pope who said that
HIV/Aids is a tragedy that cannot be overcome through the distribution of condoms, which can even increase the problem.
When two organizations with diametrically opposed opinions work together, one of them makes a compromise. In this case — like in many others — it was the CBCP that didn't budge. If this is any indication of what the responsible parenthood bill will contain, things don't look so good.
In the four-hour meeting, "controversial issue[s] such as condom use" were not discussed. How can you play a "more proactive role in the fight against HIV/AIDS" without even trying to bring up condoms? It seems that Kraus knew what he was getting into.
Which is why his focus seems to be on getting the Church to help fight the stigma against people with HIV/AIDS. Kraus said that the meeting was "more about acceptance of people infected or living with HIV." Sometimes you have to focus on things you can agree on if you want to get anything done. In this case, it's that people living with HIV/AIDS do not deserve to be discriminated against. I fully support UNAIDS, CBCP, and any other organization in this endeavor.
It would have been fine if Kraus left it at that. But Kraus made some statements that are so patently false I suspect they could have been misattributed to him by the CBCP reporter:
Kraus said it's high time to "speak on" about the epidemic because what drives the disease at present is "stigma and discrimination."

By promoting community solidarity, the UNAIDS official said, the church can prevent new HIV infections…
So if there were no stigma and discrimination against people with HIV and AIDS, new infections would stop spreading? Like I said, I fully support ending discrimination in these cases. But doing this will not significantly control the spread of the disease. What really needs to be addressed is the stigma against sex, sex education, and contraceptives — all perpetuated by the CBCP.
On the other hand, Archbishop Lagdameo made it clear that although they said they would now be proactive in fighting HIV/AIDS, their decades-old position remains:
"Our support is selective which means to say we'll help in raising awareness to the people, and address stigma and discrimination," said Lagdameo, former president of the Catholic Bishops' Conference of the Philippines.
"We will not join in the promotion of condom use; it will just worsen the problem."
Even after hearing that, Kraus went on to refute "claims that the church is a hindrance to the campaign against HIV/AIDS." Is Kraus really a representative of an organization that thinks "condom use is a critical element in a comprehensive, effective and sustainable approach to HIV prevention and treatment"? Either Kraus was misquoted (several times) by the CBCP reporter, or he went too far in pandering to the CBCP. Now I don't know who's the bigger hypocrite.