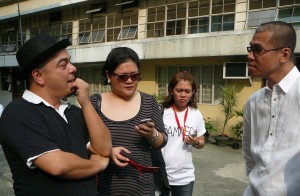 Last Tuesday was the first day of Carlos Celdran's trial. The charge? Apparently, he hurt some people's feelings toward their imaginary friend — a crime in the Philippines. His trial is one of the highlights of the fight for the Reproductive Health Bill, which is encountering a ton of opposition from the Catholic Church and other Catholic organizations, even though the people themselves seem to be all for it. When Carlos entered that church in Ibarra garb, held up a sign saying "Damaso" and shouted to the priests to stop interfering with politics, it was because the Catholic Bishops' Conference of the Philippines (CBCP) had been trying to use religion to influence the outcome of the RH Bill's passing, such as making thinly veiled threats of excommunication towards the president of the country.
The court session was scheduled at 1.30 pm, so some of us from the Filipino Freethinkers met up with Carlos at Starbucks around noon. I was trying to hold up one of the posters from the people at Sex and Sensibilities, but turns out I was holding it upside down.
Carlos was in good spirits, even giving us a short demo of his current favorite gadget, the Samsung Galaxy Tab. (Which totally rocks, by the way.)
Inside the courthouse, we saw a bunch of people in anti-RH bill shirts. These shirts were unfortunately colored bright yellow — the exact same color as that of the detainees who were there for their criminal trials. (Note to self: when dressing for court or planning propaganda shirts to wear to court, make sure to not wear the same regulation prison colors as suspects in custody. Because when you leave, the judge will try to get security to stop you.) I was wearing the grey "excommunication" shirt, while the others were in white, "Damaso" printed on the front and "Pass the RH Bill Now!" on the back. (Speaking of suspects, it was interesting that there was no effort made to separate the detainees and the spectators. There were guys in prison outfits and handcuffs standing right next to me during the session.) The room was airconditioned but there were too many people inside so it was still hot, and I kept fanning myself with my poster. It looked like this. I was seated close to the anti-RH bill people, so I'm pretty sure they saw it. No one said or did anything confrontational, though, which was promising.
It was over under an hour, I think. The complainant presented their case, the defense denied everything. The judge advised them to settle out of court. I don't blame him. There was a woman who was jailed because she stole clothes amounting to around 1 to 2 thousand pesos, which was bailable, but apparently she couldn't afford bail, so she's been in jail for months. I believe our judges have better things to do than entertain ridiculous cases like "offending religious feelings". After all, who here thinks we should go to prison for mocking Xenu? Oh, and next trial date was set for March 10. (Or was it May? I'm getting old.)
When it was over, we trooped outside with the other pro-RH Bill advocates from the Democratic Socialist Women of the Philippines (DSWP) in the parking lot and waited for Carlos and his attorney to finish up the last details with the MTC. There were a few media people there with cameras and they took photos of us. When Carlos appeared, he posed for photos with us, holding up the posters.
The anti-RH Bill advocates had a banner. Don't ask me why being the world's greatest boxer should make your opinion on whether or not women should have access to reproductive health care weigh more than the rest of ours, because I'm stumped. Don't ask me either why they spelled Pacquiao's name wrong — I didn't notice because I was too distracted by that colon. Later, a friend had to point out to me the missing " 's ".
Oddly, the Anti-RH advocates wanted to have photos taken with Carlos, too. They did not appear hostile in any way. In fact they were quite nice, logical fallacy and typos notwithstanding.
The epic moment was when they shook hands with Carlos.
Oh, and someone asked for Carlos's autograph on a poster.
There were some spectators watching us speak with the anti-RH Bill advocates and talk to the press. Lots of them wanted to have their photos taken with Carlos, and even one of them asked Carlos to kiss her baby (he obliged, laughingly). The funny thing was, some of them thought he was a priest. Most of them thought his name was Damaso. I'm not sure they knew what exactly was going on, it just seemed they wanted to have their photo taken with him.
"Magpapa-picture ako kasama si Father!" (I'm having my photo taken with Father.)
"Hindi siya pari! Tour guide siya." (He's not a priest, he's a tour guide.)
"Oo, pangalan lang niya Damaso." (Yes, he's just named Damaso.)
(Ah, so they know Damaso was a priest, at least. Madame, I suggest you should put down your books once in a while and turn on the TV to watch the news. Haha.)
One of them asked me if I was the girl in the poster. Flattering, but no. For one, she clearly had better hair than I did.
The posters were a hit, though. Lots of women (the spectators were mostly women) asked us if they could have some. One of them asked me what they meant. Before going home, we gave Carlos the remaining posters so he could distribute them on his tours.
Some of us stopped by Makati for a late lunch before braving the traffic home. The trains were full and the lines at the taxi stand were ridiculously long, so we took the bus. It took me more than an hour to get home. The truth is, no matter what side of the condom debate you're on, we all get screwed by rush hour.
This post was reposted by the author from her personal blog.