Liberals often have a smug sense of superiority over conservatives when it comes to science literacy. True enough, a lot of conservatism is coupled with antagonism to science, which we have seen throughout the RH debate, locally, and evolution and climate change denial, globally. But this smugness is unwarranted, as progressives have their fair share of science denialists.
An anti-GMO group that calls itself "Sikwal-GMO" destroyed GM crops in Camarines Sur, last Thursday, August 8, 2013. The plants were Golden Rice varieties being studied by the International Rice Research Institute.
While the use of terror and violence to derail scientific research is not unknown in the history of science, it is exactly this sort of thing that belies any rational motive from the anti-GMO. If indeed there is all evidence pointing toward the harmfulness of GMOs, why not counter research with that evidence? Well, it's because there is none, so violence and terrible argumentation is exactly what we should expect from them.
There is broad scientific consensus that currently existing genetically modified foods pose no greater risk to humans than regular old food. This is backed up by global science bodies such as the World Health Organization and the International Council for Science, whose members include 111 national academies of science all over the world. It is important to note that this consensus refers to currently existing GMOs, because that is how GM foods are assessed—as individual products.
Genetically modified organisms are used by anti-science luddites as a catch-all for "scary Frankenfood" but, in reality, genetic modification methods vary and gene targets vary. Therefore, the products vary in features, as well. There are many variables that affect how confident we can be in assessing the safety of a GM variety. But, the bottom line is, these products go through years of evaluation, when the latest fad diets and small-scale locally grown crops and breeds can go through none.
There is a lot of misunderstanding about what GMOs are. It is critical that we remove all of these misconceptions, not to blindly support genetic modification, but to cut out all the terrible and nonsensical reasons we have against GMOs. While anti-GMO beliefs are not exclusively a progressive issue, it is a strangely popular one among the left, which is traditionally more scientifically literate.
The genetic modification of food has been critical in the history of human beings. None of the food we regularly eat today existed before humans and they would never exist outside of "unnatural" human intervention. Our foods today were selectively bred to produce traits that we found ideal—traits such as size, taste, resistance to pests, and ability to grow during more times during the year.
What were selected and bred here were genes, since genes dictate traits. Problem is, with this rudimentary form of genetic manipulation, we don't exactly know what other genes we are bringing along. We see a trait we like; we breed them to multiply their numbers.
The genetic history of the potato
The potato that we eat is the root part of the plant. It is a swollen mass where the plant collects the sugar it produces as starch. It didn't always look like the large Idaho potatoes we now consume. They grew in South America and used to look like thin finger-like growths. They were very bitter and not at all tasty. Through selective breeding methods, our ancestors picked the fattest and tastiest spuds. After generations of breeding, we now have the modern potato.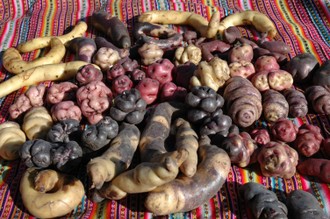 This is basically blind genetic engineering. We have a vague idea of what we like (we want a large tasty potato) and we plant the potatoes that reflect these traits. Our ancestors didn't have the technology to isolate the genes that produced these traits, so the breeding process also magnified some unwanted genes. For the potato (as well as its cousin, the tomato), the breeding also came along with glycoalkaloids, a naturally-occurring pest tolerance compound. It is a steroid that is harmful to humans, which can be produced post-harvest by potatoes in lethal doses due to simple stresses such as sun exposure and insect presence. Regulatory bodies and large-scale producers of potatoes have to test whether the strains they produce create a toxic level of glycoalkaloids. These regulatory bodies and large-scale producers are often painted as corrupt or misguided by proponents of small-scale and unregulated "natural" produce.
Glycoalkaloids make potatoes more likely to survive, regardless of whether they kill people, which is why the heartiest potato varieties create the toxin. After all, the only concern of potatoes is to survive long enough to make more potatoes. This makes opposition to another GM crop, the Bt corn, particularly ironic.
Bt corn and "toxins" in GMOs
Corn had a history much like the potato. Our modern strains of corn descended from the American teosinte, a grain no bigger than a pinky finger. Selective breeding gave us the plant with several rows of large golden kernels.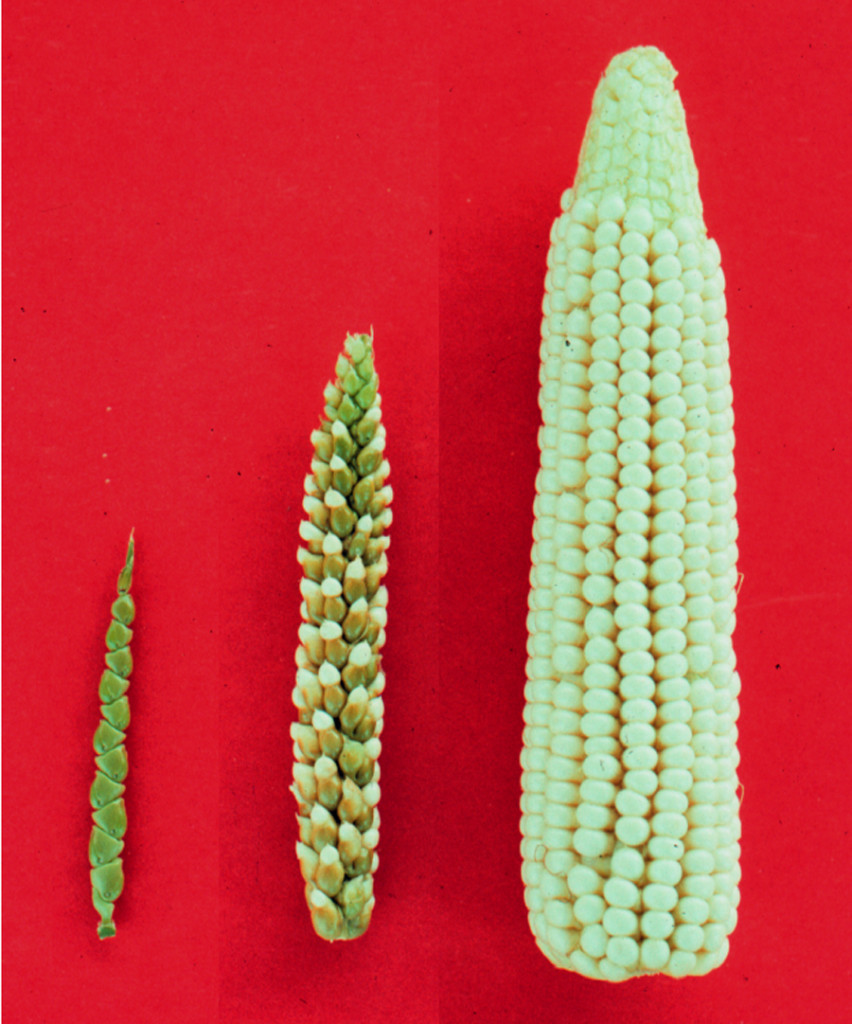 The European Corn Borer is an invasive species that has been wiping out corn crops for decades. It is an insect, which used to feast on European millet, but has since migrated to the Americas due to human activity. It has destroyed the livelihoods of many corn farmers because the insect, being an invader, has no natural predators in America.
To combat the corn borer larva, which eats through corn plants, scientists have employed another foreign organism. The bacterium Bacillus thuringiensis produces a protein-based toxin that selectively targets a subset of insects, such as flies, beetles, and moths, including the corn borer. Scientists used the bacterium's gene coding for this toxin and inserted it into a variety of corn, creating Bt corn.
Unlike glycoalkaloids and broad-spectrum pesticides, the GM Bt toxin has no harmful effect on humans. Though the bacterium itself produces toxins that are toxic to humans, the specific insect toxin gene inserted into corn genetic material makes sure that only the insect-specific toxin is produced by the GM corn. This is a result that is impossible for conventional breeding, not only for being cross-species. It is impossible because modern genetic engineering, as opposed to conventional breeding, only introduces genes we want to introduce.
Scientists in the Philippines are also studying Bt eggplants.
What is Golden Rice?
Golden Rice, which is being researched here in the Philippines, is even far less problematic as it provides a nutrient, rather than insect resistance. And yet, it is the target of many anti-GMO groups such as Greenpeace. When New York University Dean for Science Michael Purugganan asked the lead Golden Rice researcher about their methods, they said that they introduced beta-carotene enzyme genes into the rice—a gene carrots have. This beta-carotene is metabolized by humans to produce Vitamin A, a nutrient that is sorely lacking in the diets of many poor children. Beta-carotene also gives the rice (and carrots) its characteristic orange color. Vitamin A deficiency can lead to blindness, a weakened immune system, and even maternal mortality.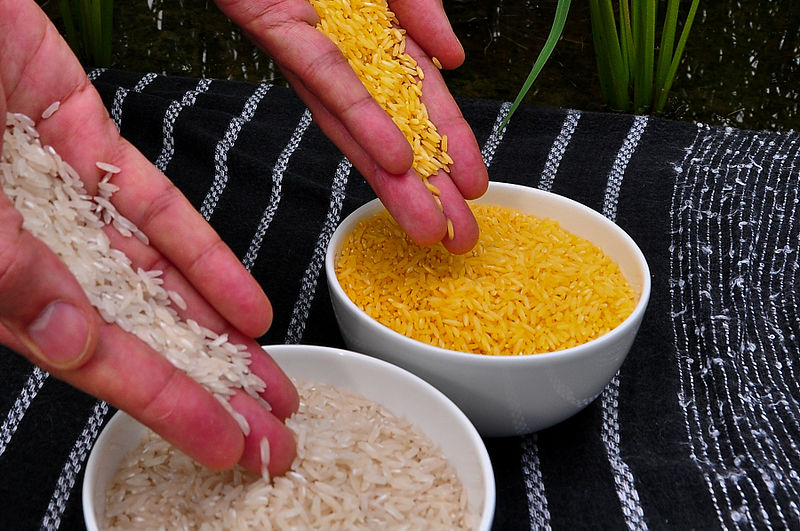 Arguments inevitably crop up that suggest that poor children have other sources of Vitamin A, such as fish and vegetables. Of course, such suggestions betray embarrassing privilege, since, no matter how cheap vegetables may be, the poor often can only afford rice as a daily meal. Such arguments are so reminiscent of conservatives pointing out the cheapness of contraceptives that it is shocking when these anti-GMO justifications come from pro-RH liberals. The International Rice Research Institute expects Golden Rice to cost the same as regular rice, once it has undergone proper regulatory tests.
Conspiracies and corporations
Sikwal-GMO defends their destruction of scientific research by branding Golden Rice as "nothing but a ploy of agrochemical transnational corporations like Syngenta to satisfy their monopoly on seeds and rake more profits." While Kilusang Magbubukid ng Pilipinas justified their actions as "legitimate resistance by farmers against Golden Rice."
Some more thoughtful critics of GM technology often concede, as they should, that the science shows that regulations have kept GMO foods safe. They instead criticize oppressive practices by large biotech firms such as Monsanto, particularly regarding patenting genes. I share much sympathy for these criticisms as I believe patenting genes is a rather odious practice. I see it as having little difference from pharmaceutical profiteers that inflate costs for life-saving treatments. Not to mention, many patented genes were simply found in already-existing organisms, without significant modification.
However, it is not a rare occurrence that opponents of big corporations use the science denialists as shields to "legitimize" their opposition, by failing to criticize them and even coddling them. This is similar to religious extremists who hide behind moderates when their religion is criticized. What instead happens is a false image of large public outcry against GM, as a science, rather than biotech firms, as profit-motivated entities. In the case of the Golden Rice research, which had its samples so totally destroyed that it must restart the trials, the technology was given away royalty-free for not-for-profit use. This would have made Golden Rice a particularly potent tool for NGOs fighting against malnutrition. Sadly, the violent action by "protesters" has set back this goal for a while.
In researching this piece, the vast majority of search engine hits I got for GMO-related queries turned out anti-GMO sites. This is sad, but typical for most anti-science movements such as those against evolution, climate change, and vaccination. Thus there is often a misplaced confidence among science opponents from all sides of the political spectrum, since they are a very vocal pocket of the Internet. Inevitably, in any "controversial" science discussion, strange websites of questionable repute crop up to purportedly show evidence against scientific consensus. Nevertheless, in the matters mentioned, scientists who actually work in these fields, who actually solve these problems and review these claims, are the ones to refer to. Criticism and doubt are always necessary in science, but conspiracy theories and unverified claims have no place in a scientific discussion.
Image Credits: International Potato Center, John Doebly, International Rice Research Institute