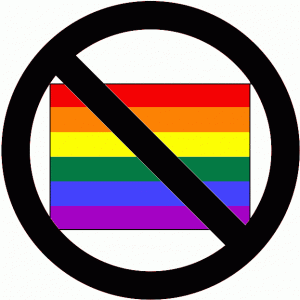 With the Papal elections winding down in the Vatican, most pinoys are beginning to focus their attention on our very own parade of horribles: The May 2013 Elections.
The people will be voting for candidates who most closely adhere to their wants and needs, and they'll be very interested in what the various candidates' opinion on hot topics such as same-sex marriage.
It goes without saying that as a religiously conservative country, the Philippines has not been supportive of gay marriage, with an overwhelming amount of senatoriables voicing their opposition to the measure.
The question is, does their opposition to gay marriage hold any water? For the benefit of the people still undecided on this matter – and since I'm a mean-spirited blackheart with nothing better to do – I'll be presenting some of the crazier reasons these people are against gay marriage…and why they're bullshit.
"It's against natural law. Ang lalaki, ang mapapangasawa niya ay babae, at sila'y mag-aanak at dadami ang sangkatauhan. 'Yan ang naturang batas at hindi kailanman nagkaroon sa natural law na pwede 'yung parehong babae, parehong lalaki… Walang pamilya! Hindi naman 'yan magkakaanak." – Lito David
Malayo 'yan. Tayo'y ginawa ng Diyos na [ang] pag-aasawa [ay] para magkaroon ka ng anak, procreation, para magkaroon ka ng happiness. Kung para sa happiness lang, 'wag na kayong magpakasal. Kung dalawa kayong lalaki, dalawa kayong babae, gusto n'yong magsama, puwede naman. So bakit kailangang magpakasal pa? – Dick Gordon
Marriage is for propagating family, but it is high time for registered partnerships. – Ricardo Penson
First off, there is nothing in our laws that makes having children a legal requirement for couples to marry. If this were the case, then marriage should be illegal for the sterile and the elderly. Strangely enough, lesbian couples can still skirt this requisite through the magic of science.
This argument was also used during the deliberations to repeal California's Proposition 8. Prop 8 has since been repealed, with several states in the US beginning to legalize gay marriage, which goes to show you just how effective the argument was.
Furthermore, if David and Gordon are going to argue against gay marriage on the grounds that "It's not natural," they're going to have to explain swans, seagulls, bonobos, dolphins, vultures, pigeons, ducks, sheep, and hyenas. All of the above have exhibited homosexual behavior in the wild.
Taking the naturalistic fallacy further, we shouldn't be using "unnatural" things, such as modern medicine, cars, smartphones (of which David has taken to backfisting), and computers.
I'd include clothes, but do we really want to regularly see Mr. David's junk, or Dick's…well, you get the idea.
"I don't think that's a marriage. They can just live together if they want. No need to flaunt it." – Jun Magsaysay
I think that is a joke of a proposal. I don't know where that idea came from, but marriage is between a man and a woman so maybe the laws can be liberalized in such a way that the property relations of people of the same sex who decided to live together can be governed by law but let us not call that marriage. Madali naman yan sa partnership, we can let the government code govern that or the laws on partnership, not the family code. – Koko Pimentel
It's more than just being able to live together and "flaunting it". Marriage ensures that the partners involved receive the same legal protections as straight couples, such as the on the matter of hospital visitation rights. There's also the myriad of laws under the family code that protect the right to property of both people entering a marriage, in the event of the death of the spouse.
This isn't about granting "special" rights to the LGBT community, as Pimentel implies. This is about granting them EQUAL rights, under the same family code that protect all straight marriages in the Philippines. And on a more sentimental note, it is about two men or women who have entered a long-term relationship, being able to proudly say "We're married!" instead a word salad like "We're under a recognized civil union!"
Pimentel should brush up on history, so that he'll understand why his plea for things to be "Separate but equal," should be ignored, if not outright ridiculed. Just like his stance on reproductive rights.
"Ang paniniwala ko pa rin between man and woman yung marriage." – Nancy Binay
Sa akin, parang 'di maganda dahil man and woman ang marriage. – Samson Alcantara
I don't have anything against gay people… they were probably born that way but this should not be sanctified by marriage. Some of my friends are gay but marriage to me is a sacred institution. – Bal Falcone
We are still a Catholic nation. If we look at the Bible, the marriage of two persons is always man and woman. It's always been Adam and Eve. Wala namang Adan at Adan. Wala ring Eba at Eba – JV Ejercito Estrada
Marriage is not the exclusive property of the Catholic Church. Furthermore, it's not as if legalizing same-sex marriage will require RCC churches to marry gay couples; The couples can always get married in churches that support gay marriage.
And really, the "some of my friends are X" defense is a crapshoot argument. Would it be any more sensible if Mr. Falcone said "Some of my friends are black, but I think segregation is a sacred institution"? Is it any surprise that most of the arguments against gays sound similar to the tired rhetoric of the proponents of the Jim Crow laws?
Furthermore, Mr. Estrada, the Philippines is not a "Catholic Nation." While it is true that most of the people here are Catholic, that doesn't give them the right to impose their religion on all other non-Catholics; Even constitutionalist Fr. Bernas considered this a very bad idea.
And assuming we limit our definition of marriage to consenting adults, the one-man, one-woman definition can also be disputed. Polygamy is also a widely accepted form of marriage among numerous cultures, such as Islam.
Lastly, it's a PERSONAL belief – nobody is forcing you to have a gay marriage. However, it also follows that you don't have a right to impose your personal belief of what marriage is on gays. It's not your job to force your "paniniwala" on the people – it's your job to defend their basic rights. And if you don't understand that, you don't have any business running for senate.
Totally against that. Equal rights are guaranteed by the United Nations Charter on Human Rights. There is really no need to expand the concept of human rights. I respect the human rights of gays and lesbians, but when you allow same sex marriage, there is no purpose whatsoever as to the objective of that. – JC Delos Reyes
JC failed to mention that as of 2011, the United Nations passed a resolution opposing discrimination or violence against the gay community.
That discrimination doesn't necessarily have to come in the form of laws that directly oppress the LGBT community. It can be as simple as denying them the right to marry the person they love, and wish to spend the rest of their life with. A right straight people like me can enjoy, and most often take for granted. JC has no business claiming to agree with the UN if he can't even acknowledge that gays deserve to be protected by the same range of laws that protect everybody else in RP.
On a related note, he certainly has no right to be claiming to be in support for the UN charter on human rights, given his attempts to block every woman's right to RH medicine and education, which are supported by the UN.
JC also claimed to be anti-imperialist, and against the influence of internationa groups, so what's he doing agreeing with the UN in the first place? Fucking hypocrite.
"I am for the protection and respect ng political rights ng lahat, regardless of gender. Pero pagdating sa marriage of same sex, sabi ng Good Book, huwag gayahin 'yung nangyari sa Sodom and Gomorrah dahil darating ang paggunaw sa isang bansa pag 'yun ay ginawa." – Eddie Villanueva
We saved the best for last.
The gist of Bro. Eddie's argument is that he's for equal rights, unless it goes against the teachings of his good book. The problem is that even a cursory reading of the bible shows that it's anything but a "good" book. From its endorsement of genocide and slavery to unleashing bears on kids who make fun of baldies, the bible's text goes anywhere from morally questionable, to the sort of religiously-motivated actions that would make even Kratos take pause and say "Whoa there! Isn't that getting a bit excessive? "
As a parting note, I advise all voters reading this to go through their favorite candidate's stances on various social concerns before voting. It's your responsibility, and privilege.