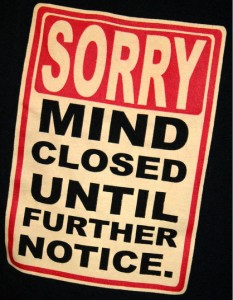 In the last few years, the Filipino Freethinkers have encountered a number of big bigots in the local scene whose words and actions truly show an unwillingness to embrace fact instead of fiction, and equal human rights instead of being selfish and dictatorial. From Senator Tito Sotto's literal laughter in the face of maternal deaths, to Eric Manalang's plea that our mothers should have aborted us, we've gotten to know quite a few bad eggs.
For the 3rd Filipino Freethinkers Forum this coming April 1, we will be handing out the 2012 Biggest Bigot Award to the person YOU think has worked hardest at being a close-minded douchebag. As our prize, the winner gets to have money donated in their name to the cause they are directly opposed to! Isn't that nice? Everybody wins!
To vote, simply click here and cast your vote! Some of your choices include Senator Tito Sotto, Manny Pacquiao, Archbishop Oscar Cruz, Archbishop Teodoro Bacani, Eric Manalang and Rizalito David.
Follow your heart and vote away! Voting ends March 31, and we'll announce the winner right after the forum. And for those interested in attending the forum, please RSVP here.
—
Image from cosmicsnark.com