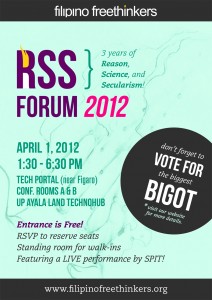 It's been three years since the Filipino Freethinkers began their quest to uphold reason, science, and secularism (RSS) in the Philippines. To celebrate this fact and set the course for the future of RSS, we're holding our 3rd official forum this Sunday, April 1, from 1:30 PM to 6:30 PM at Tech Portal Conference Rooms A and B at the UP-Ayalaland Technohub (directions here). Entrance is absolutely free–simply RSVP here!
Apart from presentations by FF's various advocacy directors and allies, we'll also be presenting very special awards to individuals who have truly championed reason, science, and secularism in recent years. Moreover, we're also giving an extra-special award to the person voted Philippines's Biggest Bigot 2012! Click here to cast your vote!
This is a special occasion for those of us who truly value our rights and our freedoms. Join us as we celebrate a new chapter for freethought here in the Philippines!
(Download the press release/press kit here.)