Alan Turing was a mathematical genius, a wartime code breaker, a computer pioneer, and, to some extent, a British spy ala James Bond. He was among a number of code-breakers who decrypted Nazi military codes, saving millions of lives in the process.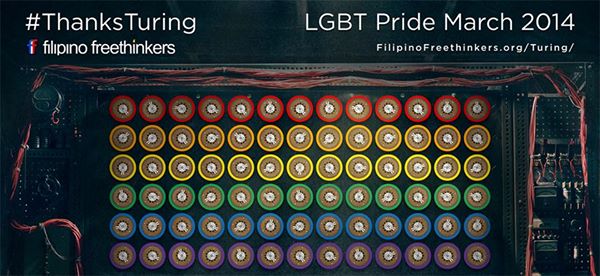 Alan Turing is also one of the pillars that has enabled our current information age. The technology behind computers, mobile phones, and even the Internet was based on the mathematical models he developed. Alan Turing innovated mathematical models that would become the backbone of technological progress. Alan Turing helped defeat the Nazis. Alan Turing is a pioneer, a hero, and a genius. He's easily one of the greatest men who ever lived.
It's such a shame that 60 years ago, 1954, Turing was prosecuted by the same government he helped protect, and by the same people whose lives he would improve because of his contributions to science and technology. Why was he prosecuted? Because he was gay.
When Turing was convicted, he was given the choice to either spend 2 years in jail, or undergo a hormone "therapy" that would leave him chemically castrated. With this conviction, he also lost his security clearance as well as his role in the government's communication headquarters. Aside from that, the side effects of the chemical castration caused him severe depression.
He committed suicide at the age of 41.
Such is the face of homophobia. It's reveals a picture of humanity at it's most bigoted. It has robbed humanity of a genius and a hero. Who knows what other contributions Turing may have made if he was given the same liberty extended to straight people.
Homophobia continues to claim victims 60 years after Turing's death. The persecution suffered by Turing persists until today. Homophobic discrimination is still prevalent. Hate crimes are still committed against the LGBT. Gay kids are still being bullied.
This is the reason why there is a need for events that promote LGBT awareness and tolerance.
The Filipino Freethinkers are happy to announce that we will be marching with our LGBT allies as part of both the Metro Manila Pride March (Dec. 6) and the QC Pride March (Dec. 13). We march in the hope that homophobic discrimination will one day be eradicated from civil society.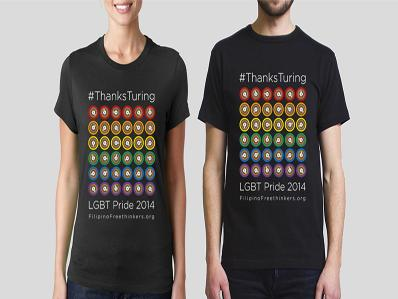 To celebrate Alan Turing's contributions to science and technology, and to bring awareness to the unfair prosecution of great men and women of the LGBT, the Filipino Freethinkers will be marching with Alan Turing shirts and banners.
We invite everyone to join our contingent in expressing our support for the LGBT community.
If you would like to march as part of the Filipino Freethinkers contingent in the 2014 Metro Manila Pride March, please visit our event page: https://www.facebook.com/events/624376127673564/
If you would like to march as part of the Filipino Freethinkers contingent in the QC Pride March 2014, please visit our event page: https://www.facebook.com/events/485520478255588/