One of the most criticized aspects of an atheist is the tone he selects to convey what he believes. He sounds so angry, doesn't he? That's because he is. It's not a myth. A lot of atheists are angry. For a long time, I was angry too. And throughout that anger, it never felt wrong to be angry. I felt that my anger was righteous. I also felt that it was important that this anger was conveyed.
I've mentioned in earlier posts that matters of belief are emotional issues. The same goes for non-belief. The atheist believes what he believes because of certain experiences that he encountered. For many atheists, the journey from belief to disbelief has been a painful one. It has not been an easy transition. Religion has been kind to some people, but it has not been kind to everyone. For some people, religion has been cruel.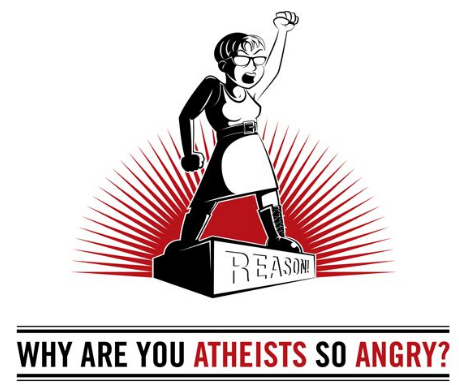 I have some anger too, but recently I have been trying my best to communicate with a neutral tone. I have begun to consider the purpose of my writing and have decided that there's no point to writing for an atheistic audience. Many of them already agree with me. However, my confrontational tone has been alienating not just religious folk I have never met, but many of my personal friends as well.
If I write with anger, all I would accomplish is either amplify the anger that many atheists already feel or offend many theists. I think my job, as a writer and educator, is to provide information and to encourage the peaceful discussion and evaluation of contradictory ideas.
However, if I do encounter an angry atheist, I will not tell him to stop being angry either. Anger is not a pleasant feeling. Many atheists who choose to feel something as unpleasant as anger have legitimate reasons to make such a choice.
Alex Gabriel, in his article, "To the Atheist Tone Police: Stop Telling Me How to Discuss My Abuse," provides a comprehensive defense of his anger.
As a young bisexual man, Alex suffered from a lot of religion-inspired abuse. He was told that all Muslims were terrorists. He was told that he was an abomination. He was told that he would go to hell. After all he has suffered from religion, he believes that his anger is the correct response to religion. Part of his goal is to be rude to religion, and the anger that he is able to express is, for him, an achievement – a symbol of his freedom from religion.
In his article, he mentions others who have been labeled as "angry." He mentions Shasheen Hashmat who was labeled as "angry" because she spoke openly about living with a mental disorder because of the traumas she endured from honor abuse. He mentions Sue Cox who was labeled "angry" because she revealed that her family told her that being raped by a Catholic priest was part of God's plan.
Some "angry" atheists have had their genitals mutilated. Some have suffered sexual abuse from members of the clergy. Some have been living with shame because they were told that their "lack of holiness" was what caused a man to force himself on them. Some have been living in terror after being told that they were possessed, instead of depressed.
Some atheists are angry with religion simply because they suffered from religious abuse, and they are within their rights to express their outrage at the injustice they suffered.
Whether or not I agree with the communicative efficiency of an angry or bitter tone, I'm in no position to tell an angry atheist to "calm his tits" because I am not completely aware of his personal traumas to make a judgment about his capacity to calm down. It's difficult to talk about abuse without anger.
And the last person who should be telling an atheist to stop being angry is the believer.
As Greta Christina writes in her article, "Atheists and Anger":
"It is not up to believers to tell atheists that we're going too far with the anger and need to calm down. Any more than it's up to white people to say it to black people, or men to say it to women, or straights to say it to queers. When it comes from believers, it's not helpful. It's patronizing. It comes across as another attempt to defang us and shut us up. And it's just going to make us angrier."
I understand that theists will be offended by the atheists' anger, and will make judgments about atheists based on his angry behavior. However, I also understand that atheists have legitimate reasons to be angry, not only because many of them suffered abuse, but also because these feelings of outrage are necessary for social progress.
"Social movements are hard. They take time, they take energy, they sometimes take serious risk of life and limb, community and career. Nobody would fucking bother if they weren't furious about something," says Cristina.
Personally, I'm not as angry as I used to be, but I can't promise that I will never speak with anger again. What I do want believers to understand is that when I express my anger, it's not directed at you, believers. It's directed at a system that has enabled this abuse. I'm not attacking your relationship with God. I'm attacking misguided manifestations of your faith that has led to human abuse.
The real battle is not between believers and atheists. The battle is between cruelty and kindness; bigotry and tolerance. I would like to think that as ethical human beings, that we're all on the same side.
Image Source: http://churchandstate.org.uk/wordpressRM/wp-content/uploads/2012/04/reason.jpg