Father Castro, a church executive, recently mentioned, "100 million population, it's good for the economy. Ibig sabihin niyan meron tayong workers, hindi bad news ang population. Na brainwash tayo na malaking population is equated with poverty."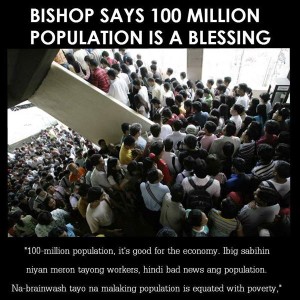 This sentiment has been repeated by many; that the growing population is good for the economy and does not lead to poverty. Their logic is that the the more people, the more workers; the more workers, the better the economy.
There is some truth to the assertion that a fast growing population may lead to faster economic growth. Even the New York Times published an article by Floyd Whaley called, "A Youthful Populace Helps Make the Philippines an Economic Bright Spot in Asia."
Although it is true that more people can produce more goods and services, leading to faster economic growth, the question we should ask is, "Who benefits from this kind of growth?"
About 1 million people enter the labor force every year, each one of them competing with each other and with existing employees for jobs. With such an abundance of labor, employers face very little pressure to raise wages. After all, if one person doesn't want to work for next to nothing, there are hundreds of others lining up to apply for the same job.
To quote HSBC economist Frederic Neumann:
"The Philippines stands out as the youngest population. As other countries see their labor costs go up, the Philippines will remain competitive due to the sheer abundance of workers joining the labor force."
In other words, the economy will grow rapidly precisely because wages will not.
Who will benefit? The rich who have an army of workers competing for a small number of jobs, willing to work for next to nothing just to stay alive, and Father Castro's church which will gain legions of faithful poor.