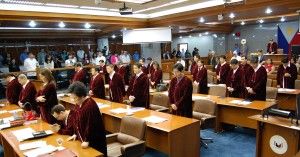 How does one know that a politician accused of plunder is a devout Catholic? Don't worry — they'll tell you. One even put a Bible quote on a shirt — Bong Revilla's had the following on his the day he surrendered:
"The LORD is on my side; I will not fear. What can man do to me?"
This kind of religious gesture is usually shorthand for, "I'm not corrupt, I'm Catholic, for Christ's sake!"
But a recent study concluded that if you're a Catholic politician in a predominantly Catholic country, you're probably corrupt. I had read several studies that confirm the correlation between religiosity and other signs of societal dysfunction.
But this most recent one, titled "A Cross-National Investigation into the Effects of Religiosity on the Pervasiveness of Corruption," went a bit further. It argues that religion, instead of just being correlated with corruption, actually promotes it.
Secularism and Societal Health
A few weeks before Revilla's surrender, Alex Gonzaga, a celebrity contestant of reality show Pinoy Big Brother, preached about the virtue of theism and the vice of atheism. She said that while believers solve their problems with God, nonbelievers "deteriorate," trying to solve their sins with yet other sins.
But such statements can only come from someone who doesn't know about Scandinavia and other secular societies. Study after study has shown that when it comes to countries, a strongly religious population is rarely a good thing. The more religious the population, the higher the incidence of, among others, poverty, crime, corruption, inequality, infant mortality, inability to access education and a decent standard of living — the list goes on. The least religious countries are better at most, if not all, of these measures.
However, correlation does not mean causation. Just because strong religiosity usually coexists with high crime rates does not mean one causes the other. When it comes to causation, I share the conclusion of the sociologists at the World Values Survey. They argue that what causes both high religiosity and low societal health is existential insecurity. When you live in a society where you can't count on your government for survival, you're more likely to pray to God for help or to get the help yourself — regardless of the legality of the means.
But this doesn't quite explain why politicians — particularly those who are rich enough to own private jets — would plunder millions, especially while professing belief in a God that sees and judges everything they do.
Hamid Yeganeh & Daniel Sauers of Winona State University, USA, provide an explanation.
Corruption By Catholic Privilege
Even after controlling for the effects of socioeconomic development — making sure that how developed a country was didn't significantly influence the outcome — they concluded the following:
"Considering the variety of corruption measures, the reliability of data, and the large number of included countries, we have to conclude that religiosity not only does not impede corruption but tends to promote it… The fact that religious denominations did not have considerable effects on the level of corruption suggests that religiousness inherently increases the occurrence of corrupt business behavior."
But isn't religion supposed to make people more moral and less corrupt? Yeganeh and Sauers argue that "while religiosity provides guidance on morality, some of its characteristics practically promote corrupt business behavior."
The first of these characteristics is the creation of "a hierarchical socio-cultural structure promoting the elites' discretionary power that ultimately endorses corruption."
Consider clerical child abuse. The abuse of children and adolescents had been happening for centuries before it was brought to public awareness. Then it was discovered that systematic cover-ups and cleric shuffling made it difficult for the proper authorities to get involved.
I emphasize "proper" because the Catholic Church claimed that abuse cases were handled by their internal courts. They thought that whether the abuses should be handled by external authorities were up to their discretion. Because they could ensure the victims' silence with threats of excommunication, they alone could decide whether to report the crime to the police. And the decisions usually favored the priests over their victims.
Now consider the psalm on Revilla's shirt: "The LORD is on my side; I will not fear. What can man do to me?" This sentiment was shared by Vatican and its bishops when it decided that their authority alone was enough. What can man (the law) do to one with the Lord on his side (Catholic official)?
Thus bishops and politicians see themselves as privileged. But they wouldn't have any power if the population didn't actually share this perspective. Unfortunately, this is the case. The more religious a country, the more faith citizens have in both priests and politicians. These privileged people deserve more special treatment, more respect, and more trust.
On the other hand, secular societies are more skeptical of authority. They realize that there's nothing special about priests, politicians, or any other person of authority. The more power they have, the more scrutiny and skepticism they are subjected to. Because the idea of faith is more foreign to secular societies, reason and evidence hold more currency. In the researchers words, "rationality, without too much emphasis on morality, wordlessly and effectively hinders corruption and supports ethical behavior."
Religion: Sedation, not Solution
Another characteristic of religion that promotes corruption is the doctrine of forgiveness. In the researchers' words, "the function of religion with regard to corruption is to provide sedation rather than a solution."
If the allegations of plunder are true, then condemnation should be the least the people could do to ensure that justice is served. Yet CBCP President Villegas found it necessary to ask Filipinos not to condemn the alleged pork scammers.
You may think that there's no way the public could be that stupid. Surely Filipinos would never forgive, never forget. But what kind of country would make Revilla consider running for president right after his arrest? What kind of country would elect a president impeached for corruption as Mayor of Manila? What kind of country would have so many of its people forget the atrocities of Marcos and elect his family into power?
A country that can forgive a corrupt politician seventy times seven.
The Government that Prays Together
To this day, the supposedly secular Philippine Senate starts every session with a prayer. Most, if not all, of them are implicated in either the PDAF or DAP scandal. A lot of Filipinos ask, "How can a government that is so religious be so corrupt?" If you've read up to this point, I hope you'll agree that the correct question is, "How could it not?"
___
Image source: kickerdaily.com
Author's note: This article was previously titled, "The Government That Prays Together Plunders Together." "Preys" was also suggested, but "steals" sounds better (and sounds closer to "stays").