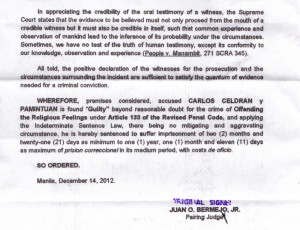 On September 30, 2010, Manila tour guide Carlos Celdran was charged for Article 133 of the Revised Penal Code, or "offending religious feelings," when he displayed the now-infamous Damaso placard to the crowd at the Manila Cathedral.
Two years later, after many efforts from the Catholic Bishops Conference of the Philippines' (CBCP) to shirk and delay the hearings, the Manila court has declared Celdran guilty of the said charge.
Below is the complete written decision:
You may also access the document here.