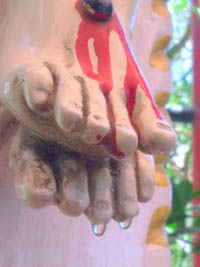 As the president of Rationalist International, Sanal Edamaruku has made a name for himself among skeptics' circles by debunking the mysticism surrounding India's so-called Holy Men.
But while his efforts are admirable, and his exposes a never-ending source of lols (at the fakir's expense, that is), he's run into a bit of trouble.
Last month, Sanal participated in a Channel TV-9 report about the the "miracle" of the Church of Our Lady of Velankanni – a crucifix that was claimed to have water miraculously appear and trickle down Jesus' feet.
We say "was", because shortly after Sanal arrived, he quickly pointed out that the source of the water in the "miracle" was from a nearby washroom drainage pipe, brought to the crucifix's feet via capillary action:
[yframe url='http://www.youtube.com/watch?v=kUqhq9MuRG8′]
As expected, the local Catholic Church was not happy with Sanal, who accused them of miracle-mongering in a follow-up program on TV-9.
A heated debate began, in which the five church people, among them Fr. Augustine Palett, the priest of Our Lady of Velankanni church, and representatives of the Association of Concerned Catholics (AOCC) demanded that Sanal apologize. But he powerfully argued against them. Via telephone, Msgr. Agnelo Gracias, auxiliary bishop of Mumbai, intervened in order to rescue the image of the Catholic Church. He claimed the Church was "always cautious in attributing supernatural causes" to such phenomena and always striving "to find 'scientific' explanations." He even assured the Pope was a friend of science.
Following the exchange, the RCC gracefully conceded to Sanal's superior argumentative style, while Sanal and Fr. Palett have since become close drinking buddies.
Just kidding. The RCC sued Sanal for blasphemy.
Sanal can be arrested any moment. In every single place where a petition is filed against him. He could be forced to appear in person to answer them. If his answer is not found satisfactory, he could be arrested. He could be forced to fight a multitude of criminal cases in different places. This is not only immensely time and money consuming. Given the fanaticism of some Catholic believers, it can be a danger for his life.
There are a couple of important points that we can take away from this incident. The first is that the Catholic Church has only been a self-proclaimed advocate of science only when it suits its agenda.
So for instance, while the RCC has declared the theory of Evolution as compatible with its doctrine, it's been a staunch opponent of any discussion on stem cell research that does not adhere to its teachings. It's gone as far as to cancel a conference when the invited speakers refused to be censored by the Vatican.
It might have worked to some extent, but after some of the speakers declined to censor their speeches, the Vatican abruptly canceled the conference altogether. According to the conference website, the event was canceled due to "serious economic and logistic-organizational reasons that have completely jeopardized the success of the 3rd International Congress on Responsible Stem Cell Research." The scientists who were planning to attend say they are being stifled instead. "I think the only interpretation is that we are being censored," Alan Trounson, president of the California Institute for Regenerative Medicine in San Francisco, said in a statement. "It is very disappointing that they are unwilling to hear the truth."
The other point we can learn from this is that when the RCC is backed into a corner, it will almost always invoke the Waaahmbulance – crying persecution and blasphemy when its fancy apologetics doesn't work on fool dissenters.
And this is why Sanal's story can feel like something so close to home. As many of you will already know by now, the Catholic Bishops Conference of the Philippines has been actively promoting its own brand of mysticism to keep its flock sedate and obedient.
At the same time, it's used this same mysticism to control its flock to strike down anybody it disagrees with, including local artists who dare to stick a penis on a carpenter's forehead, to trying to justify that discrimination against the LGBT community is religiously protected speech.
On the bright side, Sanal's plight also tells us that we are not alone in our fight – that we're part of a continually growing community of skeptics who are becoming more vocal in our opposition to their baseless rubbish and dogma.
As a parting note, I'd like to cite that India isn't the only country that's assumed raw sewage to be an act of God. As written by professor Ambeth Ocampo in 1988, in an article titled "The Miracle of the Water and the Cross":
Sometime during the term of William Howard Taft, a fisherman in Manila Bay found "bubbles like a crown of pearls… stretched upon the surface of the sea." He tasted the water and to his surprise, it was sweet!

Sweet water in the middle of the sea? The fisherman returned with a priest who promptly pronounced a miracle. People from nearby Tondo came in boats and saw bubbles form a cross. They took bottles of the sweet miraculous water home. Two days later, one of the cholera epidemics hit Tondo.

Dr. Victor Heiser (who later wrote a book about his "adventure" in the Philippines) went to the site to investigate the "miracle" and discovered that the bubbles and sweet water came from a busted sewage pipe! Kadiri (Gross!). People were actually drinking, or should I say gulping sewage water. Taft could not do anything because keeping the people from the "miracle" could provoke a revolt.
Quaffing magical potty water – It's more fun in the Philippines!
You can learn more about how to help Sanal Edamaruku by visiting his organization's site, accessible through here.