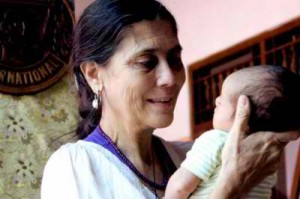 Don't get me wrong. I'm not out to demonize a woman who has obviously done loads for maternal and reproductive health. At 54 years old, Robin Lim has helped thousands of poverty-stricken Indonesian women to experience a healthy pregnancy and to safely give birth, and for that, she most certainly deserves to be hailed as this year's CNN Hero.
As a rabid supporter of the passage of the local Reproductive Health (RH) Bill, it gladdens me to know that a person has actually built her life around providing the poorest of mothers with prenatal and postpartum care, birth services, and breast-feeding support — and has done so for free. Her Yayasan Bumi Sehat Foundation has done more for reproductive health in a single day than the Catholic Bishops Conference of the Philippines (CBCP) has done in, well, ever. I seriously wish that there were more people as passionate and take-charge about the cause as she is.
Here we go again, Inquirer
What doesn't sit well with me, however, is how the media is playing up the fact that she is an advocate of "alternative medicine." I'm giving the stink eye to the Philippine Daily Inquirer, in particular, because as far as I know, CNN  and other news outfits have yet to mention the words "hilot," "alternative," "homeopathy," and "herbal medicine" in its features of Lim, whereas the Inquirer has been practically framing her as the poster woman for "No Therapeutic Claims," and actually sees this love for quackery as a good thing. (Incidentally, FF has had quite a beef with the Inquirer's integrity, as can be read here, here, here, and here.)
Take note that Lim was awarded mainly for her outstanding efforts to practice and promote safe birthing. CNN as the awarding body did not bestow her the honor because she felt that "there should be a reinvention of the health-care system by including holistic medicine such as acupuncture, homeopathy, herbal medicine and physiotherapy." If that were actually the case, then Deepak "Quantum Mysticism" Chopra should have been crowned President of the fucking Universe ages ago
Shit sells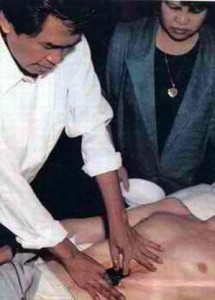 Sensationalism is the culprit here, I think. It is this horrid excuse for journalism that possibly encouraged the Inquirer's writers to play up the "alternative medicine" angle. In line with local media's never-ending, unnerving campaign for this thing called "Pinoy pride," there's a good chance that this facet of the half-Filipino Lim was highlighted because her traditional healing background was the most "Filipino" of her qualities. This nation is, after all, known for its folkloric herbal concoctions and its faith healers, never mind that these concoctions can't hold a candle to actual lab-developed drugs, and that these healers are money-grubbing quacks of the highest order. (This broadsheet has, unsurprisingly, had a history of publishing scientifically unsound things like "miracles" as fact, so there's that.)
Another possibility is that Lim herself insisted on the topic of her Inquirer piece. If that were the case, though, then the Inquirer should have suggested a different angle, or at the very least peppered the article with disclaimers regarding the efficacy of traditional healing methods, in the hopes of maintaining the barest smidge of journalistic credibility. But they didn't.
Ooga booga and mumbo jumbo
"Alternative medicine" is a load of bull. As the old joke goes, "alternative medicine" that is proven to work is just called "medicine." It is this staggering lack of proof — and its advocates' insistence that proof is neither necessary nor applicable — that sets the former apart from the latter. It goes out of its way to be baseless and unscientific, depending on flimsy, abstract concepts such as "auras" and "chakras" that have as much chance of being real as unicorns, mermaids, and the Jonas Brothers' pledge of virginity. And while some unconventional healing methods are said to be okay complements for actual, scientifically proven methods and medicines, this so-called "complementary medicine" cannot and should not stand alone.
Even if Lim advocated the methods that worked in certain, complementary ways (and I use the term "work" very, very lightly), it was still publicized by the Inquirer in such a way that she seemed to be for "alternative medicine" in general, which includes a long, snaking list of  very bad decisions. (She espouses the whackadoodle fad that is homeopathy, which is bad enough, so imagine how much worse the stuff she doesn't espouse are.)
Moreover, it's also quite unfortunate and ironic that the article, which features a woman known for her hard work in furthering reproductive health, placed so much emphasis on highly suspect "remedies" that have nothing to do with RH, and in no way mentions how certain lab-developed medicines can do and have done so much for maternal health. In fact, it's disheartening how the RH Bill, which promotes safe, effective, and clinically approved medicines in the form of family planning supplies, can be so easily dismissed by many, while something as impotent — and fatal — as faith healing gets good press at the drop of a hat.
A bad influence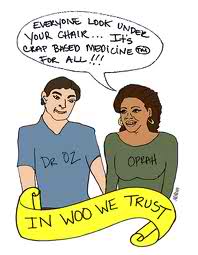 In the end, by playing up this sorely misguided aspect of Lim's, the Inquirer can be said to be taking part in putting people in danger. Ranked as the top newspaper in the Philippines, it's safe to say that this broadsheet helps to influence many Filipinos' opinions. It is only right, then, that they make sure that the stuff they offer as journalism is, in fact, journalism and not just a bunch of interesting-sounding yet highly deceptive words. But this is sadly not the case.
This piece on Lim could very well encourage many people to prioritize alternative methods over tried-and-tested ones and, thus, keep these people from getting the proper medical attention every one of them deserves. "If an actual CNN Hero is for it, then it can't be wrong" is the kind of opinion that might proliferate. As much as we hope people to be more discerning of what they read, it's always better to be safe than sorry and, in the Inquirer's case, absolutely necessary to be factual than not.
__
Images from thejakartapost.com; policeheadlines.com; and skepacabra.wordpress.com