Br. Armin A. Luistro FSC
Department of Education
DepEd Complex, Meralco Avenue, Pasig City
An Open Letter from the Parenting Chapter of the Filipino Freethinkers
While we respect and fully support the mission of the Department of Education, "to provide quality basic education that is equitably accessible to all and lay the foundation for life-long learning and service for the common good," we believe that there is a need to review its mission, namely to be, "globally recognized for good governance and for developing functionally-literate and God-loving Filipinos," and one of its core values, "Maka-Diyos," as reflected in the current DepEd Mission and Core values in the following link, http://www.deped.gov.ph/index.php/about-deped/vision-and-mission;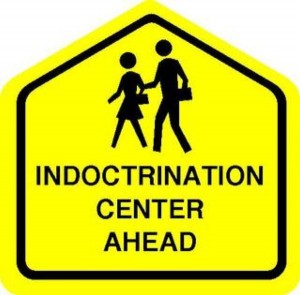 (Image source: foundersintent.org)
While the Philippines is a country whose population mostly belongs to or adheres to a certain religion and believe in the existence of a Higher Being, we believe that such a fact should not find its way nor bias the vision and core values of government offices, but should rather support the separation of church and state and consequently, should be secular in nature.
By contrast, there is still a minority of Filipinos who are neither Catholic, Christian, nor sectarian but subscribe to alternative beliefs or unbelief, including the irreligious, and even Indigenous Peoples (IPs) with their traditional beliefs.
There are some who may argue that the wording, "God-loving", and "Maka-Diyos" is not a major matter as these are not policies that the DepEd is implementing, per se. It should be clear though that their presence in the vision and core values of the country's primary government agency involved with primary and secondary education assumes and gives license to the DepEd to translate these motherhood concepts into policies which it can strictly implement in the basic education curriculum.
Moreover, the presence of these two phrases undermines this diverse but significant group of non-theistic Filipinos whose beliefs or lack thereof has been disregarded, overlooked, and not represented by a national agency like the DepEd.
Therefore, there is an urgent need to have an inclusive mission and core values that would value and represent the diversity of all Filipinos' belief or non-belief.
The 1987 Philippine Constitution is explicit in the primacy of parents' roles in bringing up their chldren, as expressed in article XIV, section 2.2, "The State shall establish and maintain a system of free public education in the elementary and high school levels. Without limiting the natural rights of parents to rear their children…"
Moreover, educating children about religion still falls under the authority and jurisdiction of parents as reflected in Section 3.3 of the same article, "at the option expressed in writing by the parents or guardians, religion shall be allowed to be taught to their children or wards in public elementary and high school…"
Thus, the law is clear, religion is still primarily the business of parents, and not the State (as represented by DepEd). If parents or legal guardians do not want the state to teach any kind of religion or belief to their children, they are well within their rights to do so.
We also do not think that it would be costly for DepEd to re-evaluate these concepts while keeping true to its goals and aims. And while we heard of some news that DepEd is doing just that (reviewing its VM and core values) https://twitter.com/ffreethinkers/statuses/298730354322313216, the results remain to be seen.
This is our second earnest open letter on this matter to the DepEd, as our first one was already sent almost three weeks ago. http://filipinofreethinkers.org/2013/02/05/open-letter-to-the-department-of-education/
We expect much from the DepEd and we hope the department will not let us down.
Sincerely,
Frederick A. Fabian
Miriam Tan-Fabian
Joselito D. Paderes
Clarissa Therese Jagunap-Soco
Andrew Mark S. Uyboco
Lyza Maria Viejo
Cecilia Deveza-Bonto
Josephine Tiongco
Philippe Batingal Schleinitz
Manolo Luis Del Rosario
Editor's note: the signatures of Cecilia Deveza-Bonto, Philippe Batingal Schleinitz, Manolo Luis Del Rosario, and Josephine Tiongco were added after the publishing of this letter.