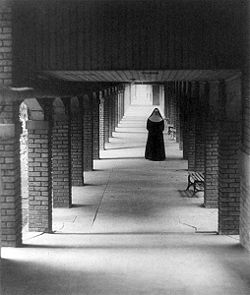 As pro-choice and anti-choice advocates continue to debate the morality of contraceptives, some priests have discovered a way of avoiding HIV and AIDS — and it has nothing to do with condoms. Their solution? Raping nuns.
The Catholic Church in Rome made the extraordinary admission yesterday that it is aware priests from at least 23 countries [Philippines included] have been sexually abusing nuns.

Most of the abuse has occurred in Africa, where priests vowed to celibacy, who previously sought out prostitutes, have preyed on nuns to avoid contracting the Aids virus.
Who says priests can't practice safe sex?
In some African countries, nuns respect priests so absolutely that disobedience is not an option. They readily trade sex for favors such as providing accommodation or tuition, writing theological essays, and giving "certificates of good Catholic practice that were required for them to pursue their vocation." In other words, sex for education.
According to Sister Marie McDonald, mother superior of the Missionaries of Our Lady of Africa, the clerical sex abuse problem is partly due to the "conspiracy of silence." Sisters felt that speaking about the issue was disloyal. And for those who did speak up, things didn't end up well:
Sometimes they were not well received. In some instances they are blamed for what happened. Even when they are listened to sympathetically nothing much seems to be done" One of the most tragic elements that emerges is the fate of the victims. While the offending priests are usually moved or sent away for studies, the women are normally chased out of their religious orders, they are then either to scared to return to their families or are rejected by them. they often finished up as outcasts, or, in a cruel twist of irony, as prostitutes, making a meagre living from an act they had vowed never to do.
But there is a hint of hope hiding in all this hypocrisy. Aside from granting favors for sex, some priests would ask nuns to take birth control pills. Some priests would even encourage the nuns they impregnate to have abortions. They may have been hypocritical rapists, but at least they're progressive.
As the Pope's official spokesman has said, we should focus on the bright side:
The problem is known and involves a restricted geographical area. Certain negative situations must not overshadow the often heroic faith of the overwhelming majority of religious nuns and priests.
Too bad not a single nun was spared from sexual abuse by this "heroic faith." Maybe it's time to try heroic action instead. Until the "overwhelming majority" speak up against the evils of its own church and demand accountability, all they'll get are more abuses, excuses, and apologies.