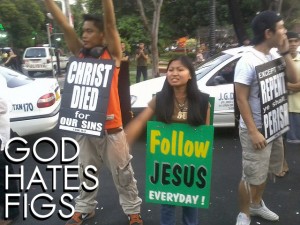 Location: Tomas Morato, Quezon City
Date: Saturday, December 4, 2010
Time: 2:00 pm onwards
RSVP on Facebook
As allies of the LGBT community, the Filipino Freethinkers have taken part in the 2009 Manila LGBT Pride March as well as an LGBT Flores De Mayo.
For the 2010 LGBT Pride March we would like to field a larger group specifically to counter the religious fundamentalists who inevitably protest at these events.
We love our fun here in the FF even when tackling a serious issue such as bigotry (or especially when tackling a serious issue) so here's the plan: Epic photo bombing! The bigotry of fundies don't deserve the respect that a serious response credits them with, what they deserve is a big heaping of humiliation on the internets.
So prepare your funniest signs for the homophobes! Bring blank signs too for impromptu responses to their stupidity! We're going to go medieval on their bronze aged thinking and support the LGBT community against the hateful bile they spew!
We'll post more details about this action on a closer date but for now lets come up with kick ass signs to take to the parade! Discuss your ideas for silly signs on the comments or on the dedicated forum thread. This will be epic!