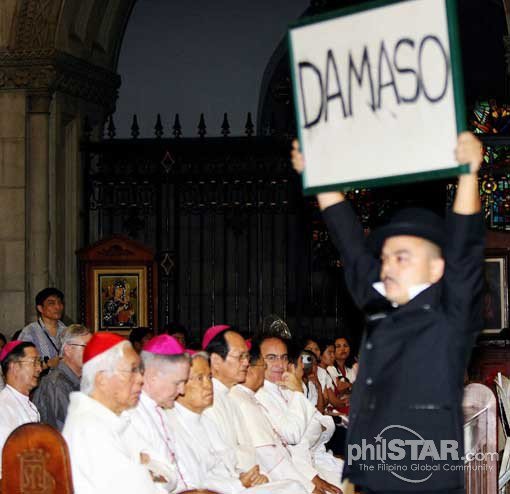 Jose Rizal is behind bars. Or at least someone who looks like him (give or take a few pounds).
This afternoon, Carlos Celdran was arrested for disrupting an Ecumenical Mass in Manila Cathedral. During one of the readings, he went in front of the altar wearing a faux Spanish era costume — black pants, black suit, black hat.
He held up a sign that said "Damaso," first for everyone to see then for those seated in the first row — a few Cardinals and Bishops, including Archbishop Cruz. Also in attendance was Mayor Lim. They didn't get what he was trying to do, so he helped them out.
"Damaso!" he shouted.
Eyes opened, mouths gaped. "Stop interfering in politics," Carlos shouted. "Stop meddling in government!"
They finally got it. Mayor Lim ordered the policemen in attendance to take him away (a warrant-less arrest). He was to be taken to the Police Community Precinct in Intramuros, where he was held until he was transferred to Ermita Police Station 5 in UN Avenue, where we met him at around 7pm.
Carlos, who'd been under arrest for almost three hours, welcomed us with a smile. He was being held in the juvenile delinquent cell. Although five other prisoners were with him, he was impossible to miss – he was still in the Rizal outfit.
He told us the whole story, which brings us to now. There were reports that Cardinal Rosales wants him in jail for embarrassing the whole Church. Rosales is thinking of filing a case against him. Carlos is willing to make a public apology, but he wants to emphasize that he is apologizing for the manner of his protest – not for its meaning. "The CBCP threatened civil disobedience. This is my version of it."
Carlos started a protest that is long overdue. But he is not alone. Friends, family and fellow advocates of secularism and Reproductive Health continue to arrive to show their solidarity. Tomorrow there will be bigger demonstrations near Malacañang and the CBCP headquarters. And as long as the Church continues to block RH progress and meddle in politics, there will be many more.
In the same way that Jose Rizal stood against the oppressive friars of his time, we must take a stand against the CBCP. I'm not suggesting we do civil disobedience of any sort. Let's just keep the spirit of Rizal's protests alive in whatever way we can. Costume not required.