After months of pompously brushing aside accusations of plagiarism, Senator Tito Sotto has finally been forced to take matters seriously. Of course, this was only after the daughter of his highest profile victim stepped forward to join the chorus of condemnation.
What Kerry Kennedy, daughter of the late Senator Robert Kennedy, found most appalling and "twisted" in Sotto's sin, is that not only did he plagiarize one of the most famous speeches in the English language, he wielded the late statesman's words to deny women reproductive rights.
Unsurprisingly, Sotto's apology to the Kennedy family was quite visibly insincere. Instead of acknowledging any wrongdoing on his part, Sotto said he was sorry if the Kennedys were offended. This is a textbook non-apology and the kind of victim-blaming one would expect from an opponent of reproductive rights. Sotto also predictably lashed out at his critics—the academics and writers who filed an ethics complaint against him in the Senate. (Disclosure: I, personally and along with Filipino Freethinkers, Inc., am one of the signatories of the complaint.)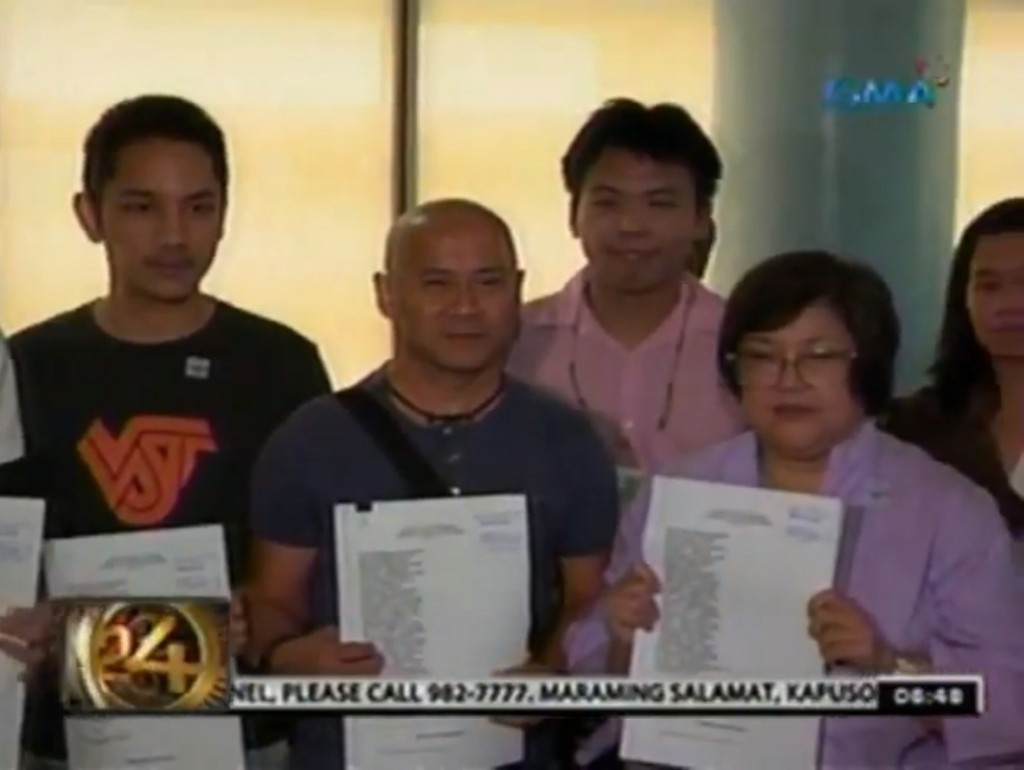 Sotto was quick to label the complainants as RH advocates and, indeed, most of us are advocates for reproductive rights. This should be expected, since Sotto's series of plagiarized speeches were made against the RH Bill. It takes little imagination to see that the people most closely watching his arguments would be RH advocates. Listening to the other side is only the intellectually honest thing to do in a debate, something Senator Sotto might not be aware of.
Conservative Catholic groups were also quick to make the same connection to RH as Sotto did and rush to his aid. One of the first to formally defend Sotto against the complaint is Romulo Macalintal, who claims that the RH Bill has nothing to do with his defense of the Senator. You may remember him from the Manila Cathedral incident when his group, Pro-Life Philippines, accosted reproductive rights advocates and tried to exorcise non-existent demons from them. Macalintal is also one of the lawyers trying to pass off BUHAY Party-List as a marginalized group in order to be registered candidates for the 2013 elections.
Not to be outdone, no less than the Catholic Bishops' Conference of the Philippines, the biggest opponents of reproductive rights in the Philippines, had several of its leaders come out to defend Sotto (and his anti-RH ally Senate President Juan Ponce Enrile). CBCP's Father Melvin Castro said he admired Sotto's "principles." Malolos Bishop Jose Oliveros dismissed the charges against Sotto as "trial by publicity." Riding on their coattails is Filipinos for Life, which released a statement saying that they held Sotto "in the highest regard" and that the group was at his "disposal."
While it makes sense that the complainants are mostly RH advocates (who were the first to notice the plagiarized passages), it does not follow that defenders of Sotto ought to be RH opponents. The content of our complaint of plagiarism has absolutely nothing to do with the merits of the RH bill. The evidence of plagiarism is incontrovertible, and to deny it is to reveal either unbelievable ignorance or unparalleled duplicity. That RH opponents almost exclusively rallied to defend an obvious and inexcusable transgression betrays their true intention of making Sotto's plagiarism case a proxy war on the RH bill. In doing so, they are not defending a principle, rather, they are defending their anti-contraceptive club: a club that ostensibly uses any means necessary to achieve their ends, even if it is against their so-called principles. It is this same exact tribalist mentality that is used to justify the protection of rapists in the Catholic Church.
The narrative that the conservative Catholic establishment has always thrust upon the RH discussion is on morality—specifically, the medieval Catholic brand of ethics that they use to divine God's apparent hate for contraception. It is quite curious, then, that they would casually ignore a clear ethical breach in order to pursue an anti-contraceptive agenda. It is not even that they believe that Sotto is innocent. Macalintal readily admits that Sotto used Robert Kennedy's speech, shamelessly asserting that the late New York Senator would have been "proud" that Sotto used his words to shut down a bill that would provide women access to modern family planning.
This is moral expediency par excellence, which is particularly odd coming from these Catholic dogmatists. The Catholic ethical system specifically denies that morality can be seen in shades of gray. As the Catechism of the Catholic Church says, human acts are "either good or evil." There is no in between. Their system has no room for the moral inconsistency practiced by those defending Sotto. Whether or not the consequences of their actions would bring about a Catholic ideal (which would be a 'good' consequence), if it is done with the 'evil' intention of lying, then it is still 'evil.' As the chief philosopher of the Church said, "An evil action cannot be justified by reference to a good intention." By abandoning consistency in their absolutism and supporting the dishonesty of a public servant, these conservative Catholics have shown that not only is their ethical system out of step with the real world, even they don't believe in it.
Image Credit: GMA 24 Oras