UPDATE (10/1/12 9:42 PM): More updates on PNP's damage control.
UPDATE (10/1/12 7:15PM): A press statement in this PNP PIO account denies any official connection to the "Philippine National Police (PNP)" page, which has already been taken down.
UPDATE: The FB thread below has been taken down.
The Cybercrime law hadn't even taken effect, but that didn't stop the Philippine National Police (PNP) from abusing it. At least that's what the admin of their Facebook page did when they encountered an unwelcome comment.
The comment was a response to PNP's post about criminology students doing poorly in English. Here's a screenshot just in case they delete the comment, too:

I say "too" because right now these are the only comments I can read out of the ones included in a screenshot that is spreading all over Facebook. Here it is, just in case they get Facebook to take it down as well: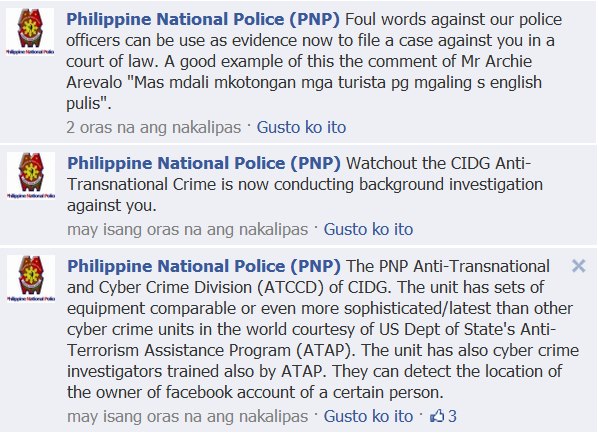 As several commenters have pointed out, the law doesn't take effect till Wednesday, October 3. Yet the "CIDG Anti Transnational Crime is now conducting background investigation against" the commenter. This may or may not be true, but one thing is certain: some who read PNP's comment are now thinking twice about speaking their mind. And when anyone is afraid of exercising their right to freedom of speech, something is definitely wrong.
Thank you, PNP, for proving that the Cybercrime Prevention Act (AKA Cyber Martial Law) must indeed be stopped. And fuck you.
___
Image source: https://www.facebook.com/photo.php?fbid=507445769267202&set=a.102182453126871.4645.100000053506248&type=1
PNP thread: https://www.facebook.com/photo.php?fbid=407303659323060&set=a.145337415519687.39609.145291485524280&type=1