Update: Sotto has since denied that he is against LGBT provisions in the anti discrimination bill. The point still stands, other senators who are against these provisions are calling for discrimination to pass the bil.
Manila Bulletin reports that certain senators are opposing the Anti-Racial, Ethnic and Anti-Religious Discrimination Act of 2011 (the Anti-Discrimination bill) because they want the provisions concerning the LGBT struck down. Among these senators is our favorite bigote'd senator, the Honorable Vincente Sotto III.
"Kaya pala nadedelay sa Senate na mag-agree sa bicameral ay pinapa-negotiate ng some Senators na alisin ang provisions ng LGBTs. (The reason why the Senate failed to agree in the bicameral is that some senators wanted to exclude the LGBT provisions)," [one of the authors of the bill, Rep. Teodoro Baguilat Jr.] claimed.

…

"So baka mag-agree na ganito na lang para maipasa. What I know is that one of those opposing is Senator (Vicente) Sotto," he claimed. Sotto was reportedly pushing for the adoption of the House version, which does not include the LGBT provisions.
What kind of legislators are the Filipino people getting when the first step these senators take to passing an anti-discrimination law is to discriminate? To make it even more disgusting, it's a good bet that some of these senators are pushing to remove the LGBT provisions from the bill for religious reasons. An incredibly hypocritical move considering that the anti discrimination bill has provisions against religious discrimination. To these senators it's bad to discriminate against religion but discriminating because of religion? That's kosher!
Even if the senator's reasons for removing the provisions aren't religious, any reason at all for the removal of LGBT provisions would be disingenuous to the spirit of the bill. They are trying to pass a law against discrimination that would, if the LGBT provisions are excised, be discriminatory in the first place.
The legislators who authored the anti-discrimination bill have done good work writing the bill in the first place. Now they need to ensure that their good work will not be brought down by the politicking of bigots and bishops.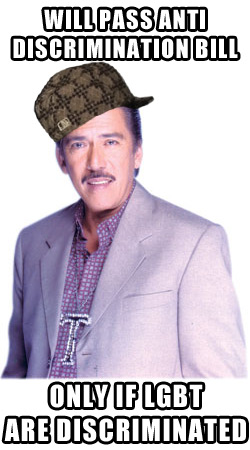 Image from Show Patikim