I cause the death of animals for my pleasure. Not directly, but ultimately, because the butcher or fisherman would not end the lives of sentient beings if not for consumers like me. And yes, for my pleasure and my pleasure alone; I cannot justify the killings in the name of survival, because I know I can very well afford and survive on a purely plant-based diet that would even result in me having a healthier body and a longer life.
If it's any consolation, as much as possible I try to eat only those animals that live in the oceans, animals that were not raised in cramped captivity in order to minimize production cost and maximize profit for the growers. My philosophy is that all animals die; what matters is how they live.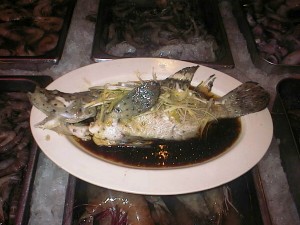 A lapu-lapu (grouper), for example, would experience the same gruesome death whether in the jaws of a bigger fish or some other sea predator as it would in a fisherman's hook, net, or spear so it could end up on my plate. And no matter how it died, it was lucky to have lived free to swim in the ocean, infinitely luckier than the farmed chickens and pigs who were forced to spend all their lives in tight cages and never got to see the sun or breathe fresh air except on their way to the slaughterhouse. Bottom line, by eating fish I am not adding to the overall suffering of sentient beings in the world.
Every once in a while, however, my beloved mom cooks her specialty, which is humba (braised pork legs), and other meat dishes. While I do not crave for meat (I prefer the lighter taste of seafood), I cannot afford to break my mom's heart by shunning her dish in the hope that such an act would result in fewer animals dying in the long run (by eating animals that were miserably bred in captivity, I take part in perpetuating the inhumane meat industry where animals suffer unimaginably). Besides, her cooking is really great. Call me a speciesist if you must because that's what I am, and I value my aging mom's feelings many times over the physical pain of non-human animals. Even the thought of an animal's lifelong suffering distilled into a piece of meat only manages to make it lose some of its appeal, but never my appetite.
A vegan once asked me why, in spite of my keen awareness of animal suffering, I continue to eat them. While I can justify eating fish and seafood, at least to myself, I regret to say that such awareness never caused me to totally give up meat, including farmed meat. What it did, however, was to make me grow cynical of man's morality and compassion. It seems most of us are capable of loving only our own kind – or even only our own kin. Which reminds me of the Old Testament where God commands His people to "love thy neighbor as thyself" (probably because in those times their neighbors were mostly their kinsmen) but to kill the Hittites, Girgashites, Amorites, Canaanites, Perizzites, Hivites, and Jebusites.
But what I really find disturbing is seeing people gather around the table and pray in front of a lechon (whole roasted pig) and thank God for the bountiful blessing they are about to partake. Here lies the body of a dead animal who never once got to enjoy a natural life of freedom and whose death was predetermined by this very occasion. Instead of a thanksgiving prayer, a eulogy would seem more appropriate.