Disclaimer: The asterisk in the title was used in order for this post to come out on our Facebook pages. Just to make it clear, I'm as much of a pottymouth as the next person. Kepyas kepyas kepyas.
"Slut" is a derogatory term, and it should stay that way. This is coming from someone who dry heaves at the term "making love," and made casual sex her sport of choice when she was single. No matter how comfortable I am with the idea of mindless sex and its pursuit, I believe that there is a difference between being in full control of one's sexuality, and just being plain promiscuous.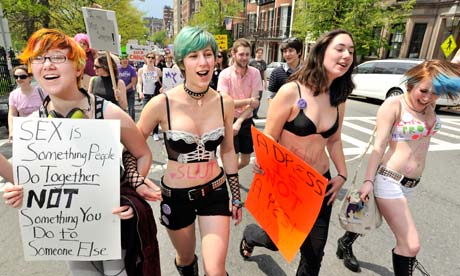 Walk like a slut
A group of female activists inToronto, however, have started a pride march of sorts dubbed the "SlutWalk" last June. It was sparked when a local police officer suggested that "women should avoid dressing like sluts" to avoid sexual harassment. In protest, these women have taken to the streets in an effort to redefine slut-dom, with many of them donning tacky, skimpy clothing and daring men not to ogle or wolf-whistle. The movement has become so popular that SlutWalks have been held across the world ever since, including in uber-traditional, harassment-heavy New Delhi.
I am totally for women speaking out not only against harassment, but also in support of their right to be open about their love for sex, whether mindless or meaningful. What I find very weak about these women's concept, however, is their dependence on the image of a scantily-clad slut to further such a well-intentioned cause.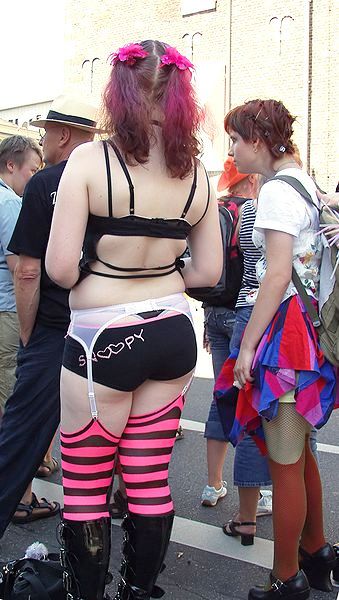 Who you callin' hot mama?
If you go out on the street in a low-cut blouse, hot pants, and heels, and then feel bad that people are staring at you, you should probably reassess your situation. What other reason is there for women to wear revealing clothing other than to attract attention? "To make me feel good about myself and/or my body" may be a valid sentiment, but  the fact remains that at the very root of your feeling good about yourself and/or your body via clothing is your being found sexually attractive by others.
Why bother wearing something revealing if sexual attractiveness is not the message you're willing to convey? For the love of fashion, you say? Most skimpy haute couture wasn't meant for the commute to work in the first place. Heterosexual men are predisposed to like boobs and legs and butts, and if you feel offended that your halter top/micro-mini/low-rise jeans has garnered you unwarranted attention, then it would be best for you to sit down and read up on biology and gender studies before heading out again.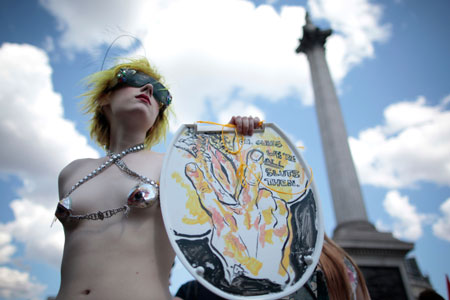 Frankness and foresight
The odd wolf-whistle or two, of course, is absolutely nothing compared to rape, and the best way for any individual to avoid it is to avoid vulnerable situations. Marching the streets in a bikini and waving a placard that reads "This is NOT my I WANT YOU face!" is not going to keep some depraved schmuck from taking advantage of you.
Instead, try lucid communication. On a night out, for instance, not only should you verbally make your intentions with your date clear, but also look and act that way you want to be treated. Want sex on the first date? Go for it – drop as many double entendres as you deem necessary. Want to play it slow or show that you're not interested? Then stop trying to spill your cleavage onto your plate and laughing at every other thing your date says. Better yet, for either case, just say what you feel. "I like you. Want to come up to my apartment for a drink?" "I like you. Maybe we can have dinner again this week. When are you free?" "You're very nice, but I don't think we're a good fit. I should go on ahead. I hope you understand."
At the end of the day, however, anyone, regardless of what they're wearing, can become a victim of rape. There are bad people out there, and they will not listen to what you tell them. The key to eradicating such a horrid crime is more about advancing an intelligent, empathetic, and conscientious society and less about pitting men against women through the Pussy Power Patrol.
So, if you want to redefine how men and women interact with one another, don't parade yourself in your panties and dare people not to stare at you. Don't try to alleviate the perils of mixed signals with even more mixed signals. Just quit the ambiguous bullshit, period.
Click here for a follow-up to this piece. 
(Images from IBTimes, TnT Magazine, Lisa VanDyke, and The Guardian)