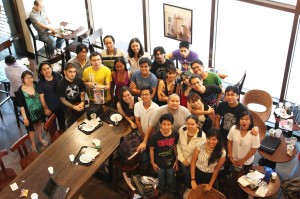 Location: Starbucks Anson's Ortigas (across The Podium mall) (Google map)
Date: Sunday, May 8, 2011
Time: 2:30pm – 5:30pm
Sunday's going to be a really interesting day with the broadcast of a national debate on the Reproductive Health bill happening later in the evening. But before an evening of facepalms, we'll have some intellectual fun with our fellow heathens!
Discussion Topics
– Advocacy and Ideology: the FF works with many different groups. How far can groups be from the FF in ideas before we can't work with them?
– Build Your Own Meetup! We'll hear from the South meetup about how they're doing on their own meetups.
– The RH Debate
After the meetup we go for dinner and beer drinking at Congo Grill, El Pueblo (see map). If you're not a meetup regular and can't make it for the meetup but would like to go for the post meetup, please indicate on a post in the wall or comment so we can contact you.
* Newbies are welcome.
* Look for the FF sign (or the group of smart, sexy people).
* There is no required age, religion, philosophy, or IQ level.
* Discussions are informal yet intelligent (most of the time).
* You don't have to talk; you can just sit in and listen.
* You don't have to buy anything from Starbucks.