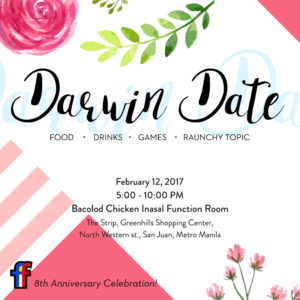 FB Event (optional): link
Venue: Bacolod Chicken Inasal, The Strip, Greenhills Shopping Center, North Western St., San Juan, Metro Manila, Philippines
Map: https://goo.gl/maps/emEKV4rqpwG2
Date: Sunday, February 12, 2018
Time: 5:00 PM – 10:00 PM
Let's celebrate Darwin Day (and our 8th anniversary) with dinner, drinks, and discussions!
* Newbies are welcome, and admission to the meetup is free. (Note: guests are encouraged to order food and drinks from the venue)
* Early birds get to play board/video/party games with the group.
* Look for the FF sign (or the group of smart, sexy people).
* There is no required age, religion, philosophy, or IQ level.
* Discussions are informal yet intelligent (most of the time).
* You don't have to talk; you can just sit in and listen.