Warning: For those who haven't seen this episode yet, spoiler alert!
This is the first, and hopefully won't be the last, of a series of short reviews I'll try doing each week for 'The Big Bang Theory'.
This week The Big Bang Theory (TBBT) episode 'The Einstein Approximation' came out,  and is the 14th episode of the show's 3rd season.
Let me just start this quick and short review of the episode by further stating what the guys there and I have in common, apart from the quite obvious facts that we're all geeks/nerds by heart.
Even before TBBT, I've admired and idolized Einstein myself, because of his great mental feats (which were of course, backed up by other physical theories and experiments at his time). Great because by just the power of his mind Einstein was able to revolutionize our lives and the 20th century, paving ways for faster transportation, not to mention telecommunication and computing, which drove and is still driving the information revolution today. And of course, so much more benefits which we more or less take for granted in our daily lives. In fact, Einstein is oftentimes synonymous with the word 'genius'.
Einstein was also very much interested in philosophy and politics, not just physics. He's written several books, articles, letters to people outside the scientific community. He also has a quirky sense of humor, as seen from this  picture of him. At first I thought this photo of Einstein was edited. But as it turns out it was really him, tongue hanging out and all. 
It was at the time he was making fun of people taking pictures of him. Great stuff.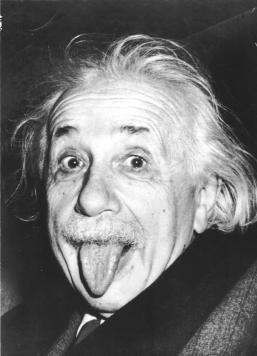 Of course Einstein is not without criticisms. Great and accomplished a scientist he maybe, history tells us he left much to be desired when it came to being a father or a husband.
Now, back to the episode review of TBBT. At this point I shall establish a partially objective, partially subjective point system of each episode relative to the earlier 2 seasons (which I have watched at least 2 times…) and a number of judging criteria.
This episode is a classic Sheldon episode, which is great in itself. Again we expected lots of 'weird' humor: Sheldon's ability to complicate relatively simple things, as well as him belittling his friends, most noticeably Penny. Hilarious stuff once again. Bravo to TBBT production team.
Not a lot of scifi or comic book references were made though. But lines such as:
Howard: How long has he been stuck? (referring to Sheldon)
Leonard: Umm…intellectually about 30 hours, emotionally about 29 years.
And
Howard: Have you tried rebooting him? (referring to Sheldon)
Leonard: No I think it's a firmware problem.
Are classics. 
The part where Leonard and Sheldon were arguing inside the 'ball play room', with Sheldon going 'bazinga' everytime, was also hilarious.
Sheldon, and of course the rest of 'the guys' are fans of Einstein no doubt. Sheldon of course thinks he's at the same level with Einstein so he tries to do what Einstein did in order to come at the epiphany that is the special theory of relativity: to work for a menial job so he can occupy his basal ganglia with a routine task so he can apparently free his pre-frontal cortex to solve his physics problem.
Another classic moment in this episode is the guest starring of Yeardley Smith, the not so well known voice actor behind the famous cartoon character Lisa Simpson (yes, of 'The Simpsons' fame). Absolutely entertaining piece of the episode.
Another classic dialog is again with Sheldon and Penny:
Penny: What are you doing here?
Sheldon: A reasonable question. I asked myself, what is the most mind-numbing, pedestrian job conceivable? And 3 answers came to mind: toll booth attendant, an Apple Store "Genius", and "What Penny does". Now, since I don't like touching other people's coins, and I refuse to contribute to the devaluation of the word "genius", here I am (meaning at the cheesecake factory).
Lines like these make me think of the real meaning and application of LOL. 
I suppose myself and those guys, as well as the show's production team, can't help cracking jokes at Apple. 
Overall I'd give this episode the following scores:
* reference to sci-fi, comic books, and other geek/nerd pop culture: 6/10
* reference to physics and other fields of science: 9/10
* dialog humor factor: 9/10
* techie/technology factor: 8/10
which gives an overall score of: 8/10
Article originally published here.