I've been reading a lot of comic books recently. I've always been a fan of comic books, but there are a number of titles I've encountered recently that made me fall in love with the medium all over again. Vertigo's "Transmetropolitan," Image Comics' "The Manhattan Projects" and "Nowhere Men."
Science in Contemporary Comics
"Nowhere Men" wonders what would have happened if there were scientists in the past that were as popular as The Beatles. They created a universe where scientific innovation is as culturally revered as popular music.
"The Manhattan Projects" premise is based on a single question, "What if the Manhattan Project, the government initiative that resulted in the creation of the Atomic Bomb in 1945, actually went a lot further than that?" In this comic you'll see Richard Feynman make weapons with Albert Einstein and J. Robert Oppenheimer, while contemplating the consequences of the weapons they're creating.
"Transmetropolitan" is about Spider Jerusalem (a futuristic Hunter S. Thompson), a gonzo journalist exploring the cultural paradigm of his milleau. He exists in a city where people from an earlier time (our time) is scheduled to wake from cryo-preservation, where citizens have the option to live in cultural reservations (brutal ancient civilizations) that are isolated from contemporary society, and where commercials can be uploaded into a person's dreams (Inception style). He blogs and he wears a device similar to Google Glass. However, this comic book was written in the 90s, which means it sort-of predicted Google glass and online blogging.
Every issue of the series tackles a different social concern, but does not provide conclusive answers. What it does is it invites the reader to think, to speculate, about the different social, ethical, spiritual, political, and economic implications of each scientific innovation introduced in each issue.
These works appeal to me precisely because they invite speculation. The point is not the story, but its premise – "What if?" – a style reminiscent of Jorge Luis Borges' "Labyrinths."
Labyrinths
It's hard to summarize what exactly it is about because, mostly, it's not about anything specific. The protagonist, the hero, of Borges' collection is information – ordinary, mundane facts.
This collection of works by Borges rarely even have a plot. One could, in fact, describe them as pseudo-essays. Often, the protagonist of the story encounters a document or a study that provides an alternative interpretation of reality. In Borges, ordinary scientific and historical facts exists as a possibilities that could be interpreted in many ways.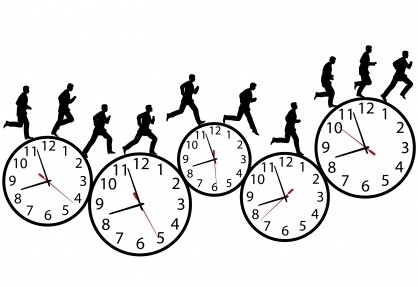 In the story "Tlon, Uqbar, Orbis Tertius," Borges provides the reader three alternative interpretations on time and the nature of its passing:
1. "One of the schools of Tlon goes so far as to negate time: it reasons that the present is indefinite, that the future has no reality other than as a present hope, that the past has no reality other than as a present memory (Borges, 34)."

2. "Another school declares that all time has already transpired and that our life is only the crepuscular and no doubt falsified and mutilated memory or reflection of an irrevocable process (Borges 34-35)."

3. "The history of the universe [events in time] – and in it our lives and the most tenuous detail of our lives – is the scripture produced by a subordinate god in order to communicate with a demon (Borges, 35)."
The point of the narrative is not necessarily what happens to the protagonist, but the reader's recognition of these interpretations. These stories are about ideas; ordinary facts people overlook on a daily basis are placed under a microscope and investigated, speculated upon, until the reader himself asks, "Is the time in this story the same time I exist in?"
The appeal of his work is that the possibilities that exist in the fictional world of Borges can exist in our own world. The language itself is a formal attempt (an attempt in form) to create an almost academic (ordinary) atmosphere. Borges mixes quotes and ideas of people from "real life" (Shopenhauer, Bertrand Russel, Friedrich Nietzsche) with the fictional ideas of his fictional characters. Information, itself, generates the experience of the reader. The knowledge is not used to describe the protagonist's experience. It is used to create "an experience" in the reader.
In Borges, common language itself can be viewed from multiple perspectives:
1. "For example, there is no word [in the southern hemisphere of Tlon] corresponding to the word 'moon', but there is a verb which in English would be 'to moon' or 'to moonate'. 'The moon rose above the river' is hlor fang axaxaxas mlo, or literally: 'upward behind onstreaming it mooned' (Borges, 33)."

2. "[In the northern hemisphere] The prime unit is not the verb, but the monosyllabic adjective. The noun is formed by an accumulation of adjectives. They do not say 'moon' but rather 'round airy-light on dark' or pale-orange-of-the-sky' or any other such combination."
The fictional themes in Borges are broad. There are meditations on ordinary language and interpretations of time, but there are also perspectives on, and interpretations of, religious and historical concepts.
In the story "Theme of the Traitor and the Hero," a publicly loved president is revealed to be a traitor. Once caught, he negotiates with his captors regarding the manner of his execution. To retain peace in the country, among the people who admire him, he takes part in the preparation of his own heroic assassination.
In "Three Versions of Judas" the reader is provided three different interpretations on what may have motivated Judas' betrayal of Jesus. One version hypothesizes that Judas was God's instrument of revelation. The betrayal was a way to reveal the divinity of Jesus. Another versions suggests that Judas' betrayal was an act of love; that he was an ascetic to the highest degree, one that believed that no one, not even him, is worthy of God's grace that he committed acts that would guarantee his damnation in hell. And there's another version that suggests how God was actually revealed through Judas and not Jesus. God, in the form of Judas, sacrificed the innocent Jesus to teach the world compassion.
Science as Art
Borges' "Labyrinths" show how fiction is not any more "magical" than real life. In fact, most of "the magic" (the philosophical perspectives, possibilities and ideas) in Borges' fiction is found and is based on real life. It wouldn't be hard to imagine a person from real life having the same epiphanies and speculations Borges' fictional characters have experienced. In fact, Borges himself admits that these stories are "autobiographical" and are, to an extent, non-fictional in nature.
In Borges reality, facts and ideas are aesthetic objects. Fiction exists only as a tool to highlight facts that generate wonder.
In his paper, "Games with Infinity. The Fiction of Jorge Luis Borges," Martin Johnson suggests that Borges attitude towards the creation of fiction is best reflected in his description of the metaphysicians of Tlon from his story "Tlon, Uqbar, Orbis Tertius" – "The metaphysicians of Tlon are not looking for truth, nor even for an approximation of it; they are after a kind of amazement." Facts and ideas, for Borges, function in the same manner. It is something that one should be amazed by.
I think such an attitude towards science should be encouraged, and the trends these comics have chosen to set (the exploration of scientific ideas and the ascension of the scientist/philosopher as a comic book superhero) reveals a promising cultural shift – mainstream interest in scientific and philosophical speculation. Science is not just a cold, precise tool human beings can use to measure universal forces, it is also a playground – a venue for mental play – as well as a source of constant awe.