The first issue concerning the supposed Attention Deficit Disorder epidemic is the skepticism surrounding it. According to the Centers for Disease Control and Prevention, the number of children diagnosed with the disorder has skyrocketed from 5% to 15%. In raw numbers, 3.5 million children are taking medication for the disorder; a massive increase from the 600,000 that took medication for it in 1990.
In an article written by the editorial board of The New York Times entitled, "An Epidemic of Attention Deficit Disorder," pointed out how so many medical professionals benefit from the overprescribing ADD/ADHD medication, so much so, that it is becoming progressively difficult to find objective information regarding the nature of the disorder.
Mentioned in the article, "Prominent doctors get paid by drug companies to deliver upbeat messages to their colleagues at forums where they typically exaggerate the effectiveness of the drugs and downplay their side effects. Organizations that advocate on behalf of patients often do so with money supplied by drug companies, including the makers of A.D.H.D. stimulants. Medical researchers paid by drug companies have published studies on the benefits of the drugs, and medical journals in a position to question their findings profit greatly from advertising of A.D.H.D. drugs."
Also from the The New York Times, Alan Schwartz wrote an article that makes a similar observation called, "The Selling of Attention Deficit Disorder." The article talked about Keith Conners, a doctor who's been fighting to legitimize attention deficit hyperactivity disorder for more than 50 years, and his current attitude about the rise in ADD/ADHD diagnoses.
In the article, Dr. Conners was quoted to have said, "The numbers make it look like an epidemic. Well, it's not. It's preposterous. This is a concoction to justify the giving out of medication at unprecedented and unjustifiable levels."
To make matters worse, ADD/ADHD medication is marketed as harmless, comparing its side-effects to that of aspirin. But there are potential dangers that are overlooked. In "An Epidemic of Attention Deficit Disorder," it was mentioned that, "in rare cases, psychosis, suicidal thoughts and hallucinations, as well as anxiety, difficulty sleeping and loss of appetite."
The Food and Drug Administration also warned that ADHD medications may, in rare cases, cause priapism – a prolonged and painful erection – in in males of all ages.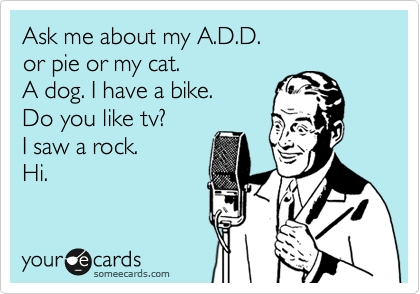 A. Dopamine and Attention Span
Dopamine is a neurotransmitter and neurotransmitters are chemical substances in the brain that are utilized to stimulate our behavioral and emotional functions. ADD/ADHD is a neurological dysfunction. It is associated with the brain's chemical system rather than the social and emotional influences around us.
Research suggests that the impulse and behavior problems in ADD/ADHD could be caused by low levels of Dopamine in the brain.
In the article, "Attention-Deficit Hyperactivity Disorder (ADHD)" by Dr. Joseph M. Carver, it was mentioned that, "The impulse and behavior problems found in Attention-Deficit Hyperactivity Disorder (ADHD) appear related to low levels of Dopamine in the brain. When dopamine levels are normal, we can repress the urge to do or say something in public, grab something interesting on a desk, blurt out our opinion, or touch/poke someone who has just walked within our physical range. Low levels of dopamine in the brain make control of impulsive behavior almost impossible in the ADHD Child/Adult."
Needless to say, if a person with ADHD is sitting in a classroom with a teacher holding a lecture and there is a fly on the wall, the fly on the wall is as equally important to him as the lecture. The impulse to notice it, or to touch it, or to playfully wonder if the fly understands the lecture, will be quite difficult for him to ignore because of low dopamine levels in his brain.
Naturally, the usual medication prescribed for people with ADHD are medicines that will boost Dopamine levels in the brain (e.g. Ritalin), to increase attention and to decrease impulsivity.
B. Other Causes of Dopamine Disorders
But to what cause can we attribute the sudden rise in ADD cases? In our introduction, it was suggested that medical professionals are eager to prescribe ADD medication. However, it can't be the sole factor responsible for increased diagnoses. For one, people who were diagnosed probably went to get treatment, or had their children treated, for attention deficit. The fact is that more and more people are finding it difficult to focus. However, lack of focus and dopamine disorders are not exclusive symptoms of ADD and ADHD. There are several reasons why such disorders may occur in both adults and children.
For one, dopamine disorders are not limited to the brain's inability to produce it. It can also be caused by damage to the D2 receptor due to sustained exposure to high levels of dopamine. When D2 receptors malfunction, a person's reward system malfunctions as well.
To a person with less sensitive D2 receptors, the fly on the wall is as equally important as the lecture, because neither experience provides a rewarding feeling. As a result, this person actively seeks out other, more novel, experiences to achieve a feeling of reward.
To simplify, anything that can produce sustained high levels of dopamine can damage the D2 receptor. The problem is that anything from sleep deprivation, to junk food consumption, drug use, pornography (debatable), Facebook, and Internet use can cause D2 receptor sensitivity to fluctuate. Needless to say, extended exposure to these stimuli may create symptoms that are often misdiagnosed as ADD or ADHD.
Just to clarify, there is no evidence that lack of sleep, junk food, porn or Facebook will give a person ADD or ADHD. However, there is evidence that these stimuli can cause a decline in D2 receptors and produce ADD-like symptoms such as restlessness and an inability to focus.
This particular hypothesis has been orbiting the issue of ADD/ADHD for a long time. In fact, there are doctors who doubt the very existence of ADD/ADHD as an actual disorder, claiming that ADD/ADHD should be considered symptoms of a disorder rather than being considered disorders themselves. An article was published in time.com entitled, "Doctor: ADHD Does Not Exist." The writer of the article was Dr. Richard Saul, writer of the book, "ADHD Does Not Exist: The Truth About Attention Deficit and Hyperactivity Disorder."
Saul writes, "In my view, there are two types of people who are diagnosed with ADHD: those who exhibit a normal level of distraction and impulsiveness, and those who have another condition or disorder that requires individual treatment."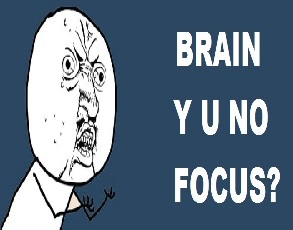 C. Conclusions
If you find it difficult to focus, it's probably not because you have ADD or ADHD. There's a 95% chance that you're just not sleeping well, or you're eating too much fat, or you're watching too much porn, or you're spending too much time on Facebook.
Prolonged attention deficit, lack of motivation, and inability to focus can be the results of a vicious dopamine fluctuation cycle. People stay up late because of several online distractions. They're sleep deprived and to keep them awake, the body compensates by dumping dopamine into their system. The dopamine dump damages the receptors and the person's reward system, causing him to prioritize immediate rewards (such as Facebook "likes") over long-term rewards.
The person wants immediate rewards because he's not getting feelings of fulfillment and reward because his dopamine receptors are desensitized. So, he stays up late for online validation. Because he's sleep deprived, his body craves for fat and he goes on binges. Fat damages receptors too. So, his receptors are further damaged.
There are theories that suggest that pornography has a similar effect on a person's dopamine receptors. Exposure to intense stimuli spikes dopamine production in the brain. The receptors protect themselves by being less sensitive. So, the next time a person seeks a similar high, he's going to require a higher dosage. Damaged receptors require higher forms of stimuli to produce feelings of pleasure, reward and fulfillment.
It sounds science-y, but it's rather simple. If someone has a habit of screaming in your ear, you will develop a tendency to cover your ears whenever that person is around, in order to protect yourself. The next time that person wants to have the same effect on you, he has to scream louder.
So, sleep well and don't damage those receptors!
Sources:
Callaghan, T. (2010, March). "Understanding junk food "addiction" in lab rats." Retrieved on: April 25, 2014. From: http://healthland.time.com/2010/03/29/understanding-junk-food-addiction-in-lab-rats/
Carver, J. "Attention-Deficit Hyperactivity Disorder (ADHD)" Retrieved on: April 25, 2014. From: http://www.drjoecarver.com/clients/49355/File/Attention-Deficit%20Hyperactivity%20Disorder%20%28ADHD%29.html
"Desensitization: A Numbed Pleasure Response." Retrieved on: April 25, 2014. From: http://www.yourbrainonporn.com/book/export/html/702
Macrae, F. (2010, September). "Facebook and internet 'can re-wire your brain and shorten attention span'" Retrieved on: April 25, 2014. From: http://www.dailymail.co.uk/sciencetech/article-1312119/Facebook-internet-wire-brain-shorten-attention-span.html
Schwartz, A. (2013, December). "The Selling of Attention Deficit Disorder." Retrieved on: April 25, 2014. From: http://www.nytimes.com/2013/12/15/health/the-selling-of-attention-deficit-disorder.html?_r=0
Saul, R. (2014, March). "Doctor: ADHD Does Not Exist." Retrieved on: April 25, 2014. From: http://time.com/25370/doctor-adhd-does-not-exist/
ScienceDaily. (2014, February). "Eat spinach or eggs for faster reflexes: Tyrosine helps you stop faster." Retrieved on: April 25, 2014. From: http://www.sciencedaily.com/releases/2014/02/140211083859.htm
The New York Times Editorial Board. (2013, December). "An Epidemic of Attention Deficit Disorder." Retrieved on: April 25, 2014. From: http://www.nytimes.com/2013/12/19/opinion/an-epidemic-of-attention-deficit-disorder.html?_r=2&
Volkow, N. (2012). "Evidence That Sleep Deprivation Downregulates Dopamine D2R in Ventral Striatum in the Human Brain." Retrieved on: April 25, 2014. From: http://www.jneurosci.org/content/32/19/6711.full
WebMD. (2009). "Tyrosine." Retrieved on: April 25, 2014. From: http://www.webmd.com/vitamins-supplements/ingredientmono-1037-TYROSINE.aspx?activeIngredientId=1037&activeIngredientName=TYROSINE
Wintour, P. (2009, February). "Facebook and Bebo risk 'infantilising' the human mind" Retrieved on: April 25, 2014. From: http://www.theguardian.com/uk/2009/feb/24/social-networking-site-changing-childrens-brains