*Reflections on Yann Dall'Aglio's TED TALK presentation, "Love — you're doing it wrong."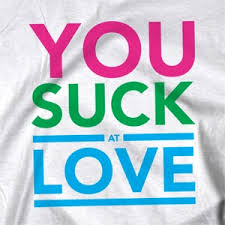 I've always been interested in the idea of attraction. I have, in fact, for a number of years studied theories on attraction, desire and seduction. I also experimented with those theories A lot of people think that my decision to study what women found attractive, in an attempt to be attractive, creepy. "It's like browsing for video game cheat codes that one can use to manipulate women into bed," one friend commented (not true, by the way). Some think it's unethical, even, to use certain speech or behavioral patterns to elicit positive emotions in other people, that may cause them to see one as a favorable mate.
Everyone does it though. At some point, most people who have been infatuated with another wanted to be seen as desirable by the the person they're attracted to. MOst people have, to some degree, altered his or her behavior because of a desire to be "liked." Some people wore makeup, other people learned pickup lines. Some people feigned disinterest, other people gave gifts. Some people projected a successful image, other people talked about art.
According to Yann Dall'Aglio, all these compulsions to behave a particular way, to project a desirable persona, in order to "earn" another person's interest comes from a faulty, preconceived notion – the idea that one can "earn" desirability.
As a teen, I subscribed to the same notion. I thought that "attraction" was something that you did, or something that you accomplished, to earn another person's adoration. Courtship made sense, at least on a theoretical level. If desirability was something one can earn, one only has to keep working to make someone fall in love. If the other person hasn't fallen in love yet, it means that you have to invest further. It sounds like a gross oversimplification, however this notion has a long history.
In the past, what made a person worthy of love was his or her ability to fulfill a role. As Dall'Aglio says, "You had a specific part to play according to your sex, your age, your social status, and you only had to play your part to be valued and loved by the whole community." However, developments in science, politics and economics have unshackled individuals from having to play specific roles. Unfortunately, these developments also ensured that the rules would change. These changes have created what Dall'Aglio calls a "free market of individual desires."
In this market, "performing a role" is no longer enough to be desired. Thus, the modern individual's obsession with desirability. Dall'Aglio says, "We only accumulate objects in order to communicate with other minds. We do it to make them love us, to seduce them. Nothing could be less materialistic, or more sentimental, than a teenager buying brand new jeans and tearing them at the knees, because he wants to please Jennifer."
In other words, we buy nice things so other people will like us. Dall'Aglio predicts that the future of our romantic interactions will proceed in one of two ways. One, the commodified consumption of the modern individual, the personal obsession with one's own desirability, will result in the further depersonalization of intimacy.
Dall'Aglio says that a symptom of the former trend is the advent of the "Pick-up Artist," specifically a concept introduced in pick-up culture called, "oneitis." Many members of the pick-up community see an individual's exclusive desire for one person, romantic love, as a disease that is meant to be cured. One can collect "seduction capital" by causing people to fall in love, while not being in love.
The narcissim of the seducer comes from the distorted belief that one can become worthy of desire. Because of an individual's desire to be deemed worthy, he collects seduction capital that he can display as if to declare, "I am entitled to your love because I'm a desirable person."
The second prediction made by Dall'Aglio is a little more optimistic. He beleves that the faulty premises that we delude ourselves with and suffer through may collapse and lead to the renunciation of the need to be valued. Once these delusions are eradicated, we can begin to understand that regardless of what we accomplish, we are not entitled to love – not worthy of it, even.
As Dall'Aglio says, "We are all useless. This uselessness is easily demonstrated, because in order to be valued I need another to desire me, which shows that I do not have any value of my own. I don't have any inherent value. We all pretend to have an idol; we all pretend to be an idol for someone else, but actually we are all impostors, a bit like a man on the street who appears totally cool and indifferent, while he has actually anticipated and calculated so that all eyes are on him."
The romantic anxieties we suffer are generated by our desire to be perfect, and our desire to find someone perfect to validate our own perfection. This unreasonable demand on both ourselves and others is what distorts our capacity for love and makes our intimate bonds more fragile. The moment we sense weakness or imperfection in the other, we immediately declare, "I deserve better than this."
Dall'Aglio mentions how tenderness and not perfection should be the measure of love. "To be tender is to accept the loved one's weaknesses," he says. Dall'Aglio suggests that we should see love not as something we can earn through our achievements, positive behaviors, or superior genetics, but as a boon we have been granted, despite our shortcomings.
Instead of demanding perfect treatment from perfect partners because of how perfect we perceive ourselves to be, we should recognize our own faults, indulge in self-mockery, and learn to see another's decision to love us as a gift rather than an achievement.
Personally, I agree with Dall'Aglio. I think we'll all have better relationships once we learn to get over ourselves.
Image Sources: