We have confirmed through reliable sources within the Supreme Court that the instigator of the ongoing hold order against the Reproductive Health Law was Justice Arturo Brion, who was appointed by GMA and has supported her throughout her administration and, it appears, beyond that. He penned the dissenting opinion on Arroyo's electoral sabotage charges, coming out in favor of her. He maintained this position when the motion was reconsidered. He also voted to grant Arroyo's travel request.
He also made his sentiments on RH clear.
The other identified Justices leading the Anti-RH camp in the Supreme Court are Justices Teresita de Castro and Roberto Abad. Abad joined Brion in the travel request vote. De Castro, with Abad, joined Brion in his dissenting opinions on both times Arroyo's alleged electoral sabotage faced the high court.
Over the last month it has been observed that Gloria Macapagal-Arroyo entertained a series of visits from prominent leaders of the Catholic Church. From Bishops Tirona, Odchimar, Marquez, Talamayan, and Villena to Lipa Archbishop Arguelles, ex-president GMA, currently under hospital dentention on plunder charges, has no shortage of friends claiming the authority of the Almighty. With her close ties to the Church, she maintained throughout her presidency opposition to all forms of the reproductive health law.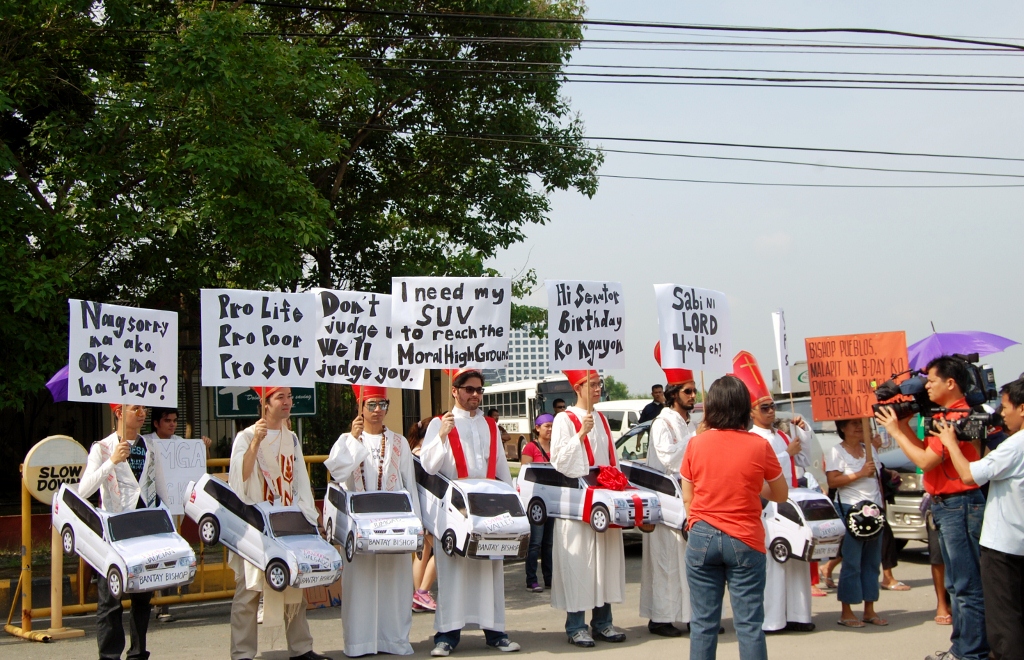 The former president has had a history of making deals with the Catholic Church hierarchy, purchasing their silence with checks for luxury SUVs. What is notable now is that even Archbishop Oscar Cruz, formerly a vocal opponent of hers, has visited her and is now calling for her to be moved to a more comfortable state of house arrest.
Other luminaries gracing the former president's place of detention include pro-life partylist BUHAY's representative Lito Atienza. GMA's spokesperson confirmed that they discussed the passage of the RH law.
Legal experts and some members of the Supreme Court itself showed that the arguments supporting the SQA border on the farcical. This was further demonstrated by Anti-RH arguments from Francisco Tatad.
We know that the Supreme Court is supposed to be impartial, but we also know that GMA has subverted that impartiality to her benefit in the past. Given the circumstances surrounding the core Anti-RH bloc in the Supreme Court, it is not unreasonable to suspect that former president Gloria Macapagal-Arroyo has recruited the Catholic Church leaders' support in exchange for influencing the high court's ruling on the Reproductive Health Law.
Image Credit: Westcrosse via Wikimedia Commons