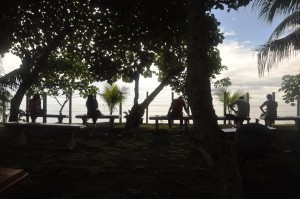 One of the benefits of studying law in a Jesuit university is the opportunity to attend the mandatory spiritual retreat.
At first I felt very awkward, expecting to be forced to share in front of the whole class how I experienced God's presence during my meditation, and having to either make something up or tell them outright that my skeptical mind requires empirical evidence before making any conclusions. I did not want to lie about my beliefs (or non-belief), but I did not want to rock the boat either especially since I saw how sincere and non-dogmatic the facilitators were. So I decided to ride it out.
The first activity was the Lectio Divina (prayer of a listening heart) where we were to choose from a list of three passages from the Bible and two from the Qur'an (since some of my classmates were Muslims), read it three times, identify a word or phrase that struck us personally, and try to make an application of it in our lives. After a fifteen-minute meditation we were to choose a partner to whom we would share our reflections. Sharing to the entire class afterwards was optional.
I chose 1 Kings 19:10-13 where God allegedly appeared to Elijah, but decided to read the entire Chapter 19, which includes the verses 15-18:
15 The Lord said to him, "Go back the way you came, and go to the Desert of Damascus. When you get there, anoint Hazael king over Aram. 16 Also, anoint Jehu son of Nimshi king over Israel, and anoint Elisha son of Shaphat from Abel Meholah to succeed you as prophet. 17 Jehu will put to death any who escape the sword of Hazael, and Elisha will put to death any who escape the sword of Jehu. 18 Yet I reserve seven thousand in Israel—all whose knees have not bowed down to Baal and whose mouths have not kissed him."
I told my partner that I am skeptical about the Bible as the word of God, briefly explaining the concept of hearsay and how God is so clear in the Bible but seemingly absent in the world. I pointed out that the above passage literally talks of the Lord commanding Elijah to anoint kings to kill the worshipers of Baal, and those who escape one king will be killed by another, and those who escape that king will be killed by a prophet. Today, that would be tantamount to ordering the deaths of all the native tribes who worship pagan gods. Good thing my partner, who was a Protestant Christian, actually seemed to appreciate the logic of what I said.
The second activity was the Ignatian contemplation. Here, we again had to choose among certain passages from the Bible or the Qur'an, and we were to imagine being physically present in the scene that was described in the passage. We were to pay attention to the setting and other details in the story, the characters, the dialogue. We were to take note of how we were feeling, and if we were drawn to speak with anyone including Jesus, and what we would say.
I picked Mark 4:35-41 where Jesus calmed the storm while he and his disciples were on board a small fishing boat. After the meditation we formed groups of four. When it came my time to share, I told my groupmates what I would say to Jesus: Lord, it's very convenient that you are here with us tonight to save us from this storm. But you know Lord, two thousand years from now in a country called the Philippines, a passenger ship named MV Princess of the Stars carrying hundreds will sail into a storm. I'm sure many will pray to you, and in your name command the wind and the waves to be still. But you will not be there as you are with us here, and the ship will capsize, and most of the passengers will end up dead or missing. And you know Lord, within a decade and in the same country, typhoons will claim lives, even as people who heard about how you calmed today's storm will probably try to command those typhoons to stop in your name.

Luckily, I was the last in our group to share, and the facilitator said that time was up, so my groupmates didn't have a chance to react to what I said, which was obviously very much different from what most of them shared, that is, how law school was like a storm.
Then came the third and last activity, the Examen, in which we were to look back and review our entire day, examine our feelings particularly the "consolations and desolations," and try to figure out what caused our ups and downs. The facilitator explained that while it was an opportunity to see how God was present in our lives, the activity actually had a secular application in meditation.
Afterwards our class of about thirty was divided into three groups, each joined by a facilitator. I took advantage of that secular part mentioned earlier. When it was my turn to speak, I explained how I appreciated the meditation and decided to do it everyday, because by contemplating on my ups and downs and especially on what caused them, I could see more clearly how I should live every day, make the right choices, prioritize what's important, and in effect live my life more efficiently.
And that's how this freethinker survived the retreat. Even if it was supposed to be a religious or spiritual activity, it did have a nice secular application, not to mention the opportunity to share my skeptical views with my classmates. While I would choose any FF meetup over it, I actually enjoyed the retreat, and the experience was nonetheless enlightening.
* * * * *
Image by Jong Atmosfera