This morning has seen news outlets advising everyone stay indoors today.
http://www.rappler.com/nation/special-coverage/weather-alert/9958-heavy-rainfall-not-yet-at-ondoy-levels
In case you haven't heard, all RH activities for today were canceled as of yesterday's victory. For anyone who does need to head out, or is trying to find their way home, you can monitor flood levels through the following twitter accounts:
@mmda
@makatitraffic
@MarikinaPIO
Emergency numbers can be found here: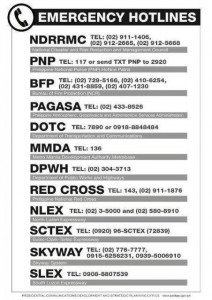 Also, more comprehensive information for guidance during a natural disaster can be found here:
http://www.gov.ph/government-information-during-natural-disasters/
For those who want to head out and do something to help those less fortunate, as of now we still haven't received word of disaster relief centers being set up in the metro, but we will keep this post updated as news comes in. UPDATE: A list of relief centers can be found here.
For now, you can ready the usual donations of money, food (ready to eat and with decent shelf life) and clothing (clean and presorted) and check for the Red Cross nearest you.
If you are the sort who is inclined to prayer for the sake of others' well-being, then it is our hope that you soon couple that with action, in whatever small way you are able. If you are the sort who is inclined to prayer as a means to feel smugly self-satisfied at the misery of others, then it is our hope that after you put up your insensitive myopic little tweet you shut off your computer to save electricity for those who may need it more.