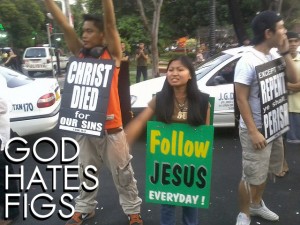 We're getting a very positive reaction on our planned LGBT pride march event, over 90 people have confirmed on the Facebook event page so far! Although realistically we'll get less than that, its still a big enough crowd to kick ass and show our support for the LGBT community.
With a big contingent from the Freethinkers we won't just be making fun of fundies, we'll also be marching along to show our support! The excommunication fun will continue with an LGBT twist. After all, why stay in a religion that hates fabulous?
Roles
Be prepared to come as a walker in the main contingent or as a counter-fundie-funny! If you'd like to counter the fundies please bring signs to the march, make them funny not hateful! For inspiration, see this forum thread or blog post. For people walking with the main contingent, bring placards that have LGBT-supportive messages. You don't have to stay as a walker or a counter-fundie throughout the march, you can easily switch between the two roles as the march goes on.
Small portable white boards might also be a good idea to bring as an impromptu way to respond to the craziness of the fundies.
Costumes
We highly encourage people to come in costume, geek references get bonus points! If you can't quite find the guts, or the time and resources, to cobble together a costume, one thing you can do is make a statement shirt with an LGBT-supportive message similar to the placards we'll be carrying. Think of the "Some people are gay—get over it" campaign in the UK. We'll also bring stickers that you can put on your shirts for instant statement shirts!
Documentation
The march needs to be documented so bring along your cameras, both video and still if you please can.
Assembly/Location
The pride march is at Tomas Morato Avenue, Quezon City. See the route map below. Assembly time is at 2PM at the Starbucks indicated on the map below. The actual march itself will start at 4PM and is expected to last until 6PM.
View 2010 LGBT Pride March Route in a larger map
See you all on Saturday, cheers and queers!