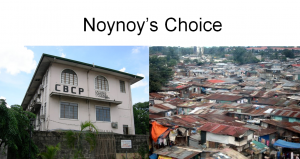 Today, Noynoy made a choice. It was a choice between filling the shoes of his mother and becoming his own man. It was a choice between theocracy and democracy. A choice between the beliefs of 133 Catholic bishops and the needs of 92 million citizens.
Today, Noynoy made the right choice:
The Philippine government will provide contraceptives to poor couples who request it despite strong opposition from the dominant Roman Catholic church, President Benigno Aquino said Monday.

Speaking in a satellite television interview from the United States where he is on a seven-day visit, Aquino stressed that the number of children a couple had was a matter of personal choice.

"The government is obligated to inform everybody of their responsibilities and their choices. At the end of the day, government might provide assistance to those who are without means if they want to employ a particular method," he said.

"I believe the couple will be in the best position to determine what is best for the family, how to space (the births), what methods they can rely on and so forth."

"They face the responsibility for the children that they bring in and government is willing to assist them."
But the CBCP thinks he made the wrong choice. Or rather, they prefer he didn't make it himself:
"I won't conceal the fact that we are hurt… we were hoping that he will be like his mother."

~ Fr. Melvin Castro of the CBCP's Commission on Family and Life
They're also threatening to "do everything just to block the measure even if it means going back to the streets again in protest." Even if it means robbing Filipinos of their right to choose. Even if for millions of them, it may be a choice between life and death.
It remains to be seen whether Noynoy bows to these bishops or has the courage of his convictions. But if he does follow through, he will be giving Filipinos something he had today: the power to choose for oneself — and the courage to choose correctly.