Update: According to a GMA News TV article, Secretary Valisno was misquoted by the CBCP article: "The DepEd is not putting the sex education program on hold. Sec. Valisno clarified that no such decision has been made," Malaya said. "It appears that she was misquoted in the CBCP article."

An assistant secretary working for the DepEd also confirmed this when I spoke with her briefly at this morning's hearing on the petition for a temporary restraining order on DepEd's pilot-testing program. She also told me that we (civil society) will be invited to the forum to discuss the sex ed modules. If I can't get some seats for you guys, you can be sure I'll represent.

The GMA article also says that the plan to upload the sex ed modules to the DepEd website has been cancelled because it might be accessed by those who are not old enough and be corrupted by it. DepEd, I know your modules are controversial, but I'm pretty sure those horny kids could find something more sensational to be corrupted by.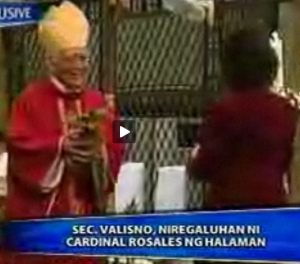 When the CBCP meddles in government, it's almost always a contest between democracy and theocracy. It's certainly been the case in their recent "partnership" with DepEd as sex ed consultants. We've all been rooting for DepEd and the democracy that their sex ed program represents. But the game is over; score one for theocracy.
Thanks to pressure from the CBCP, DepEd has decided to suspend its sex ed program until after CBCP has given the go signal. "We decided to hold sex education module in abeyance until a final decision is made on the consulting process."
That was Education Secretary Mona Valisno. Before deciding to suspend the sex ed program, she attended a mass in Manila Cathedral. She sat in the front row while Archbishop Rosales delivered a sermon:
"All of us in this cathedral are either teachers or students or collaborators of church. Ang misyon ng kristiyano ay ganito: isang engkwentro kay hesus, hindi mo maaaring ipagpalit mo 'yun. [This is the mission of a Christian: one encounter with Jesus, which you cannot replace with anything.] This is addressed to all the schools, let them meet jesus, the compassionate person."
Any doubts that Secretary Valisno (and her department's sex ed project) was the target of that sermon was erased by what Archbishop Rosales did after: In front of all the teachers and students in attendance, he gave her a potted plant , which according to him, symbolized the sanctity of life. To me what the action symbolized is this: democracy sacrificed on the altar of theocracy.
Immediately I was reminded of COMELEC's decision to disqualify Ang Ladlad. Ang Ladlad was not allowed to run for representation on religious grounds — for the religious bigots who made the decision, members of the LGBT community are immoral and are a danger to the youth. Yet Ang Ladlad was able to run, thanks to the Supreme Court's more democratic ruling, one that obviously bears repetition (emphasis mine):
"Our Constitution provides in Article III, Section 5 that "[n]o law shall be made respecting an establishment of religion, or prohibiting the free exercise thereof." At bottom, what our nonestablishment clause calls for is "government neutrality in religious matters." Clearly, "governmental reliance on religious justification is inconsistent with this policy of neutrality."

We thus find that it was grave violation of the non-establishment clause for the COMELEC to utilize the Bible and the Koran to justify the exclusion of Ang Ladlad. Rather than relying on religious belief, the legitimacy of the Assailed Resolutions should depend, instead, on whether the COMELEC is able to advance some justification for its rulings beyond mere conformity to religious doctrine. Otherwise stated, government must act for secular purposes and in ways that have primarily secular effects…

As far as this court is concerned, our democracy precludes using the religious or moral views of one part of the community to exclude from consideration the values of other members of the community."
That decision was a victory not only for the LGBT community, but also for our country's democracy, and the secularism that guarantees it. I hoped that the issue was controversial enough for the decision to echo in the halls of government much longer. But in less than three months, it appears the voice of secularism has already been silenced.
What's happening now is essentially a repetition of COMELEC's mistake. Even the language being used is familiar: "Anything that will not be in accordance with moral values then we will remove it," said Secretary Valisno.
But who decides what is in accordance with moral values? Here's an answer from an article on the CBCP website:
Valisno said they are willing to modify the contents of the program if the church should find topics that contradict Christian values.
Note that what Valisno actually said was "moral" values. But the indirect quotation on CBCP's website makes it clear: as far as the CBCP is concerned, what is moral is what is Christian, and what is Christian is what the CBCP says it is.
So until the CBCP approves the sex ed modules, DepEds sex ed program is on hold. And from the CBCP's initial assessment, it looks like sex ed is on hold indefinitely. Here's CBCP spokesman Msgr. Pedro Quitorio:
"Marami kaming hindi sinasang-ayunan sa modules na ito. Sa pagtatantiya namin ay hindi ito pasado [There are many things in these modules we don't approve of. This program will most likely not pass.]," he said.
I can only imagine what kind of program will emerge from the CBCP's censorship process. But one thing's for sure: it won't be the sex education program that our country needs.
So as far as sex education is concerned, theocracy 1, democracy 0. But maybe the game is not yet over. Maybe it's only half-time. Secretary Valisno said that her department would upload the sex ed modules to the DepEd website for public scrutiny, in a way employing the public as sex ed consultants. I'm not sure how, but if this is going to be worth the effort, they're going to find a way for the public to have a valid voice in this debate.
This may be her way of evening the playing field, giving everyone a say. But I'd like to see it as her way of recruiting allies. In the first half, the DepEd was alone in facing the CBCP, Ang Kapatiran, and all those other Pro-lifers. The DepEd's going to need our help. I'm in, and I hope so are you. Let's win this for democracy.