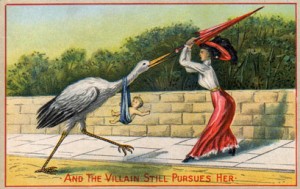 Sex education will be pilot-tested by the Department of Education (DepEd) in several schools starting June. This news should have been great. But thanks to CBCP Meddling™, it's merely good.
The long overdue sex education desired by most Filipinos will reach relatively few — only 80 of the almost 38,000 elementary schools and 79 of the almost 6,000 high schools. That's a tiny drop in the ocean of students expected this schoolyear — 13.1 million in elementary, 5.6 million in high school. (source)
But if it were up to the CBCP, not a single student would get sex education at all. And we barely avoided this fate — Malacanang recently ordered DepEd to consult the CBCP on sex education. (Yes, seriously.)
But despite the disagreement of the newly appointed sex education consultants, Education Secretary Mona Valisno said the project would push through. She added that "consultations are now set to immediately start after the opening of classes."
So they've so far ignored the CBCP's protests. But what happens when our education department finally takes the CBCP's expert advice? Will DepEd suddenly suspend sex education? Will they ensure that all scientific evidence and ethical advice passes the Roman Catholic Church's standards? Will they encourage natural family planning or abstinence-only sex education?
Whatever happens, I don't see any good coming out of consulting the CBCP. For starters, a lot of Filipinos are not Catholic. Even those who are don't necessarily agree with the CBCP's views on reproductive health — surveys have shown that most Filipinos want sex education in public schools.
And not only is this consultation a violation of our secular constitution, it's just plain wrong. What kind of educational advice can you expect from an institution that doesn't want sex education in the first place? Simply this: that sex is only moral when it allows the possibility of procreation by a husband and wife ; and that contraceptives do not work in preventing unwanted pregnancies and the spread of sexually transmitted infections.
This is most (if not al) of the advice the DepEd will get from the CBCP. Call it unscientific, simplistic — even stupid. But if sex education is to happen at all — if the CBCP is to allow it — this is necessary. One of the main reasons the CBCP politically campaigns against sex education is their assertion that the responsibility belongs not to the schools but to the parents.
But think about it. Where do most Filipino parents get their sex education? Which institution outside of schools obsessively teaches about sexual matters, wielding absolute ethical and scientific (they have studies) authority? The Roman Catholic Church. So the bishops are OK with parents doing the teaching because they're teaching the parents anyway.
But what if these parents were to teach their children something unCatholic (read: secular and scientific)? What if children were taught at home that homosexual sex and contraceptives are not evil? Would the CBCP still think sex education should be left to the parents then? Of course not.
When the CBCP says it's against sex ed in schools, what it's actually saying is this: no one has the right to give sex education — except us. And with their recent appointment as DepEd consultants, they just got their chance. So finally — reluctantly — they will allow it.
Yet whatever the CBCP has done or will do to castrate sex education, our country has taken a step in the right (read: secular and scientific) direction. Whatever happens this year in DepEd's pilot testing, things can only get better.
So I take it back. This is great news. Still, a part of me is reluctant. The sexual well-being of almost 20 million children and adolescents are being entrusted to an insular institution of bishops and priests. Why does this bother me?