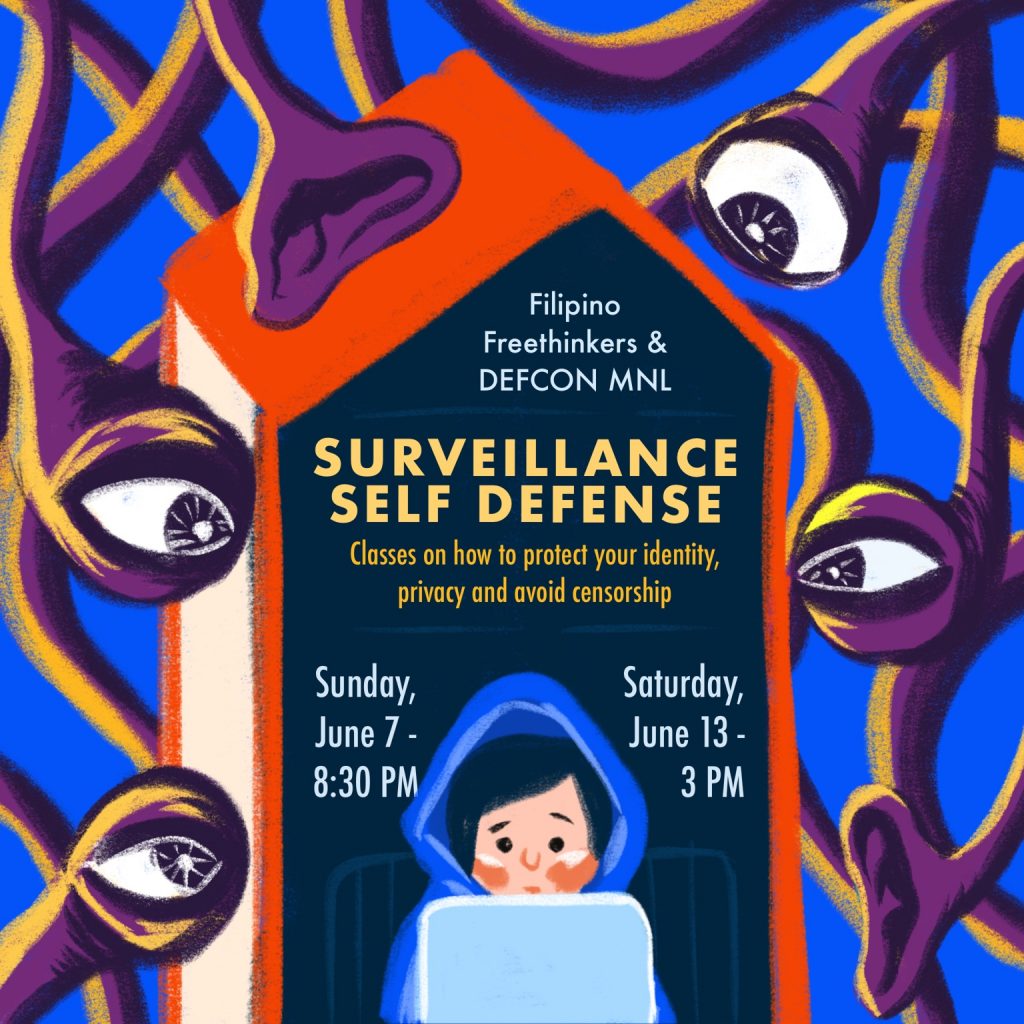 Join Filipino Freethinkers and DEFCON MNL as they answer questions on how to protect your privacy online and how activists can adapt to the Terror Bill and similar laws that try to censor citizens and prevent dissent. Learn the tools you can use to keep yourself protected so you can keep on voicing your opinion and demanding progressive change.
These sessions are open to the general public with a genuine interest in defending against unauthorised surveillance, protecting one's identity, ethical hacking, and Information Security.
Register in advance for Part 1 >>
Register in advance for Part 2 >>
After registering, you will receive a confirmation email containing information about joining the meeting.
Part 1 will be on June 7 (Sunday) 8:30pm and will cover the basics of online security:
Why your privacy matters
Introduction (Terror Bill, Cybercrime Law, etc.)
Passwords (and devices)
Emails
Social Media
Messaging
Secure Collaboration
Awareness of your online footprint (OSINT)
Part 2 will be on June 13 (Saturday) 3pm and will cover how you can protect yourself while voicing dissent:
Internet of Things — smart appliances, webcams, home surveillance, etc.
Phishing and malware
Anonymous publishing
VPNs and Encryption
ISPs and free WiFi
Investigating and taking down fake news
PRESERVE FREEDOM OF SPEECH, FREEDOM OF PRESS
Current innovation has given people with great influence new capacities to listen stealthily and gather information on blameless individuals. Learn how to shield yourself from unauthorized observation by utilizing best security practices.
Event Rules:
Raise your hand to ask a question.
Mute your microphone when it's not your turn.
This event is completely free and for the public good. Newbies are welcome.
There is no required age, religion, philosophy, or IQ level.
Participants do not need technical expertise to attend this session, which is designed to teach immediate and practical steps.
You don't have to talk; you can just sit in and listen.
Got questions about this session? Contact us at 0928 872 0020 or email us at [email protected].
DURATION:1.5 Hrs Per Session (2 Sessions Total)
ABOUT DEFCON MNL:
DEFCON 2324 is the local meetup group that promotes education and defensive security measures online for the common good.
PANELISTS (A-Z):
By Implication – the makers of Sakay.ph
Esri – makers of ArcGIS
Pepe Bawagan – Security Lead for Thinking Machines Data Science 
Red Team – the makers of Pangolin Internet Security device
White Widget – makers of FightCOVID.app & MassTesting.PH
MODERATED BY Filipino Freethinkers