"The goal towards which the pleasure principle impels us – of becoming happy – is not attainable: yet we may not – nay, cannot – give up the efforts to come nearer to realization of it by some means or other."
— Sigmund Freud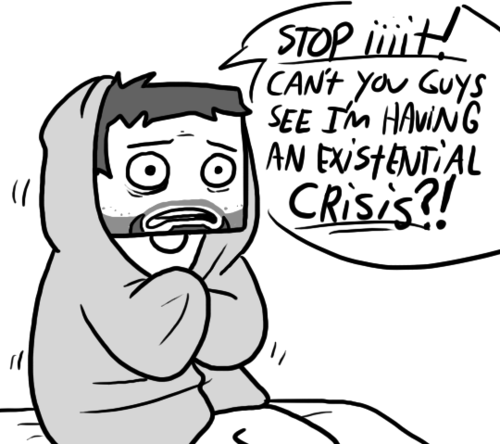 When I was in college, a common expression among philosophy majors was the term "existential crisis." It was used as a general term to explain everything you don't actually want to explain. Why are you always drinking? Existential crisis. Why did you skip class? Existential crisis. Why didn't you defend your thesis? Existential crisis. What's wrong? Existential crisis.
We used the term "existential crisis" as an umbrella term for unpleasant emotions: depression, boredom, and anxiety. Looking back though, we used the term "existential crisis" mostly as a euphemism for unhappiness. So, now, 10 years later, I'm wondering why we ever needed a euphemism for unhappiness, and why were we so afraid to admit that some of us were unhappy.
Honestly, I was embarrassed to admit that I was unhappy because I was privileged, and I felt like I had no right to be unhappy. I was being told how fortunate I was that I was studying in DLSU, and that I had a bright future ahead of me. I was afraid that any reference to unhappiness on my part would be seen as a spoiled brat's childish expressions of discontent – unnecessary whining. It was inordinately implied, by a lot of people I knew, that only those who were born less fortunate were entitled to unhappiness.
Another idea that was constantly hammered into my teenage brain was that we're all responsible for our own happiness. To admit unhappiness was to admit to a personal failure. I've heard that a person who was unhappy was a person who didn't pray enough, or didn't work hard enough to be happy, or didn't know how to be grateful for what he had.
In addition to the unhappiness I felt, I also felt guilty for being unhappy.
I'm here to tell you one fact that I wish someone told me when I was younger: "It's normal to be unhappy. In fact, most people are, because our brain is geared towards negativity."
Why is it so hard to be happy?
It's so hard to be happy, because our brains were designed to focus on the negative.
Negative experiences are easier for our brains to recall than positive experiences. Some of us have to work very hard to fight off negative thoughts and negative feelings. We simply remember bad things, bad news, and bad experiences, more than we remember the good stuff.
Being young, or thin, or privileged does not make a person immune to negative thoughts and feelings.
In the article, "Our Brain's Negative Bias," Hara Estroff Marano mentions studies done by John Cacioppo, Ph.D, of the University of Chicago.
Marano writes:
"[Dr. Cacioppo] showed people pictures known to arouse positive feelings (say, a Ferrari, or a pizza), those certain to stir up negative feelings (a mutilated face or dead cat) and those known to produce neutral feelings (a plate, a hair dryer). Meanwhile, he recorded electrical activity in the brain's cerebral cortex that reflects the magnitude of information processing taking place."
The experiment revealed that there is a greater surge in electrical activity in the brain when the brain is exposed to stimuli it interprets as negative. In other words, we respond more to negativity than positivity.
Marano explains that the human tendency to retain negative information may have evolved in humans in order to help them survive. The brain evolved mechanisms to ensure that human beings are constantly aware of the dangers around them.
Here's another fact I wish someone told me when I was younger: "If you're feeling bad only half the time, you're probably having five times more positive experiences than negative ones."
Five to One
In the same article, Marano explains how the human tendency to recall negativity plays a powerful role in the relationships we have.
Marano writes:
"What really separates contented couples from those in deep marital misery is a healthy balance between their positive and negative feelings and actions toward each other. Even couples who are volatile and argue a lot stick together by balancing their frequent arguments with a lot of demonstrations of love and passion. And they seem to know exactly when positive actions are needed."
She later explains that the balance between happiness and unhappiness becomes more complicated when we include the disproportionate effect of negativity to the average brain. It's not 50-50. The magic ratio, researchers have learned, is 5:1.
In order to find marital bliss, couples have to experience five times as many positive interactions for every negative interaction that they have.
Other researchers have found similar results when examining other areas of a person's life. We need to be exposed to positive stimuli five times as often as negative stimuli in order to be "fine." Furthermore, frequent positivity, even in small doses, has a lasting effect on a person's happiness.
As Marano explains:
"Occasional big positive experiences—say, a birthday bash—are nice. But they don't make the necessary impact on our brain to override the tilt to negativity. It takes frequent small positive experiences to tip the scales toward happiness."
Civilization and Its Discontents
In any case, what these studies reveal is that people are geared towards unhappiness and discontent, by default. It's normal to be unhappy, and it's not entirely our fault if we are. Just because a person might be rich, or beautiful, or successful does not make him immune to unhappiness. Everyone's entitled to his personal agonies, regardless of how "privileged" or "first world" some of these agonies are.
Furthermore, feelings of unhappiness is not an indicator of a personal failure. It could simply mean that a person has not been exposed to positive stimuli five times as often as he was exposed to negative stimuli. Given the amount of negativity we are exposed to just by browsing through the Facebook timeline (our friends' rants, bad news, negative comments about a celebrity, scandal, gossip, etc.), it should be no surprise that we demand unrealistic amounts of positive stimuli just to be "not unhappy."
In other words, we're never going to reach a state of "happiness," but as Freud has implied, that shouldn't stop us from trying.
Image Source:
http://media.tumblr.com/tumblr_lz5famE0P11qch9x6.png