The LGBT Pride March is one of the happiest days of the year for me.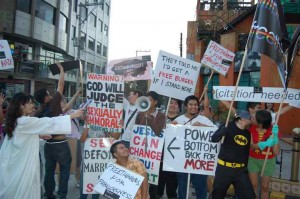 Last year's march, when my boyfriend and I suited up as Buttman and his Ladyboy Wonder, was great. It was one of my first major events with the Filipino Freethinkers, and the first time I ever photobombed a fundie and made out in public. FF even won Best Theme that night, although what our theme actually was still remains a mystery, even to us. Whatever it was, it was rewarding enough to be part of the celebration and show our love for the LGBT community. And make out in public.
A year later and FF is still putting the 'fun' in 'fundie.' We had a solid theme this time around: No Bigots, No Closets. We wanted to express our support for the newly established yet increasingly influential Philippine LGBT Hate Crime Watch, as well as the passage of the anti-discrimination bill. (As of this writing, the Catholic Bishops Conference of the Philippines wants the bill stripped of its gay rights provisions, which is downright stupid and incredibly infuriating.)
The team put together three closet costumes and named them Dogma, Authority, and Tradition, then had one FF-er march in each, acting out their discomfort and despair (which wasn't that hard, since they were, you know, in a box). We also had our usual Bigot Bishops, and was also blessed with the presence of none other than our Lord and Savior Jesus Christ. Once fundies were spotted on the route, these characters came a-runnin' and made fresh batches of epic photobomb goodness. Good times all around.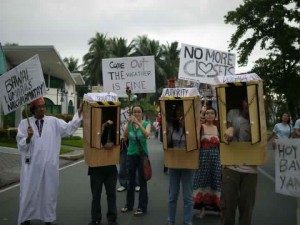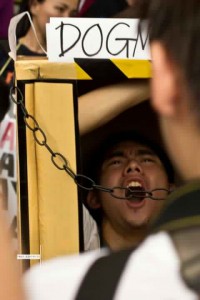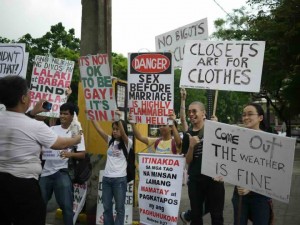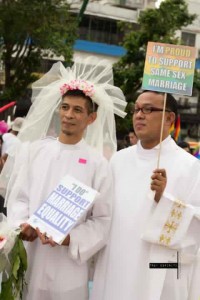 The other groups had great gimmicks, too. A personal favorite were the brawny blushing brides of the Metropolitan Community Church of Quezon City (MCCQC). It was also the first time for our friends from Deaf Rainbow Philippines to participate, and even though they were few, I was happy to see them there.  I actually saw a lot of familiar faces from the 29 Steps event from a few months ago; it really goes to show that the LGBT community here is very tightly-knit and highly supportive of one another.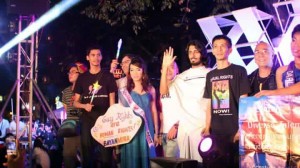 Rarely do I get to walk the streets of Manila surrounded by hordes of happy, fearless people. The march is really a party of the purest kind, where individuals, no matter how they define themselves, just come to have fun. Hopefully, in the near future, more and more folks — LGBTs and straight allies both — join in and allow this event to evolve into a far greater celebration of humanity than it already is.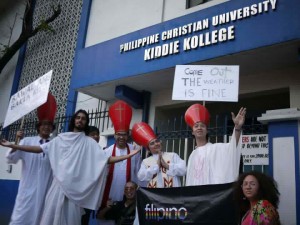 Oh, and "Kiddie Kollege?" Seriously, people.
—
Photos c/o Michelle Keng, Garrick Bercero, and Troy Espiritu