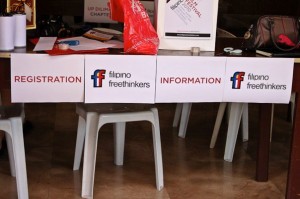 Location: QC, Near Katipunan
Date: Saturday, April 2, 2011
Time: 2:30pm – 5:30pm
Time to roll up our sleeves, Freethinkers!
This Saturday afternoon we hope to harness all the best of our creative energies toward shaping an organization of freethinkers, by freethinkers, and for freethinkers.
Thanks to all of you, we've gotten quite a lot done beyond our happy coffeeshop meetups in recent months and now looks like the time to pause and consider: how we can take the Filipino Freethinkers into the bright (secular, reason and science-based) future?
The Filipino Freethinkers General Meeting will be the basis for setting our organization's agenda and laying down strategies for implementation. We'll be setting up working groups to field, evaluate and execute all member's suggestions.
There shall be nothing censored, and all contributions are to live and die in the assembled marketplace of ideas. Do you want WEEKLY meetups? A new chapter in Pampanga? Naked meetups? Weekly naked meetups in Pampanga?
Of course talk is cheap, so you'll also get the chance to assign yourselves to actual work! Writing, audiovisual media editing, working the phones- hours and hours of unpaid volunteer toil in the name of promoting Philippine secularism await you!
In grand FF tradtion, let your ever eloquent and opinionated selves be heard, then get ready to set your hands down to some good old fashioned hard work!
Agenda:
1. Where we are now – Status, statistics, achievements
2. How we got here – History, challenges, milestones
3. Where we want to go – Reviewing and revising the vision and mission
4. How we'll get there – Strategy and tactics, projects and activities
5. What we need to do now – Roles and responsibilities, forming and joining committees
If you have any proposals for the meeting, please leave a comment so that people could be prepared ahead of time to discuss your proposals.