The advocacy for secularism is an advocacy for rights. More specifically, it is the advocacy for certain privileges and claims that are being denied due to the strong influence of the Church in our political affairs.
The Hoefeldian system classifies rights into privileges, claims, powers, and immunities. The dynamics of these four elements can be appreciated by observing how a religious country like the Philippines attempts to change its laws as it slowly breaks away from the authority of the Church.
Privileges and claims are called first-order rights: entitlements to perform/not perform certain actions, or that others perform/not perform certain actions. To have a privilege to do something means to have no duty not to do it, while to have a claim on something means that some other person or entity has a duty to satisfy that claim.
Powers and immunities, on the other hand, are second-order rights that have a bearing on first-order rights. To have power means to have the ability to alter one's own or another's privileges or claims, and to have  immunity means that another person or entity lacks the ability to alter one's privileges or claims.
To illustrate, take for example the right to drink alcohol. It is a privilege-right in the sense that people aged 18 and above have no duty not to drink, but it is not a claim-right because the government has no duty to provide alcohol, let alone for free. The government, however, has the power-right to suspend the right to drink (and the right to buy and sell liquor) as what the Commission on Elections (Comelec) is set to do four days before and during election day, although foreigners have a limited immunity from the Comelec ban since they can drink in certain hotels and establishments with special permits.
The rights commonly advocated by secularists today are reproductive health (RH), divorce, and marriage equality. The RH law grants certain claims to qualified citizens by imposing a duty on the government to provide free contraceptives. The divorce bill seeks to grant couples of failed marriages the privilege to start a new life with a new spouse by relieving them of the duty to remain married to their old partners. Advocates of marriage equality fight for equal rights – not "special" rights – of same sex couples so they can enjoy the same legal recognition, protection, and claims that heterosexual couples often take for granted.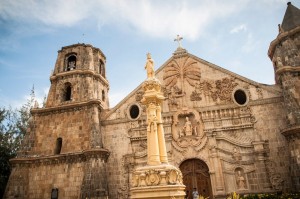 Unfortunately, these rights have yet to see the light of day as the supreme court issued a status quo ante order on the recently-passed RH law, while divorce and marriage equality still have to hurdle a tedious legislative process which at any point could stop them in their tracks. While it is the State that holds the power to grant or deny these claims and privileges, those who represent the State are also human beings and may be influenced by their religious beliefs or dictated upon by their religious leaders, adversely affecting the citizens who don't share their persuasions. In effect, religion – actually just one particular religion – still holds considerable power over all of us whether or not we subscribe to it, the constitutional inviolability of Church-State separation notwithstanding.
And so the advocacy for secularism is an advocacy against theocracy.  It is a struggle against the undue influence of religion in public affairs, a drive to remind our public servants that they answer to the people and not to some church hierarchy. The call for secularism is a call to our fellow citizens to wield their power to choose the life they want to live, to think and act free from fear of excommunication and hell fire while remaining grounded on reason and evidence, and to strive to increase happiness and lessen needless suffering in this world. Ultimately, the advocacy for secularism is an advocacy for immunity from religion, and the advancement of the rights of the rational individual.
If you share this advocacy, please join Filipino Freethinkers as we fight for a true separation of Church and State in the Philippines.
* * * * *
Image credit: Garrick Bercero