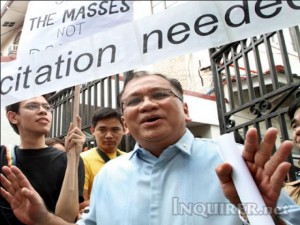 We'd like to invite you all to the biggest meetup yet.
This Sunday, Feb 27, the Freethinkers along with more than 1,000 men and women will be walking our ethical talk.
In our numbers we will march straight up to the CBCP compound in Manila, in support of the Reproductive Health Bill.
This will be by far the largest mass mobilization to descend upon the CBCP compound in history.
When: Sunday, February 27
Time: 4PM (Don't be late or they'll march without us!)
Assembly: Cory and Ninoy monument, Bonifacio Drive corner Padre Burgos Street (across Manila Hotel)
Google Map:http://j.mp/rh_march_map
Attire: White shirts
RSVP on Facebook
Likhaan (RH Action Network) Press Release
Though we have good reason to be angry with them, this will be a silent, peaceful protest. We do this in the name of the dying mothers, 11 of whom die needlessly while these virgin Fathers and their minions do everything in their considerable power to stop the RH Bill.
With the Consolidated RH Bill finally scheduled for both House and Senate Plenary hearings on March 1, there has never been a more crucial time to show the Filipino people that the bishops of the CBCP hold no monopoly on morality and that we will no longer tolerate the bishop's interference in our nation's governance.
The CBCP fear us. They know their presumed moral supremacy is merely an illusion that rests on their assumed superiority and infallibility as embodied in the serenity of their bishop's palace. Out of that fear, they have even threatened several pro-RH NGOs with withdrawal of support should they dare mobilize on their CBCP palace.
This is the kind of petty intimidation that we intend to stand against this Sunday.
Now is our chance to show the CBCP that their lies have consequences, and that we will not sit idly by while they try to take control of our nation and its government. Our silent rage will ring loud round the nation as a call to action: democracy and freedom!