While many in power seem busy edifying a man who spent the latter years of his life and a considerable part of our taxes in the utmost lap of luxury, one wonders when they'll deign to turn their attention to the eleven women who die daily from the lack of reproductive health care in the Philippines. Perhaps these women have gone unnoticed because they didn't have the benefit of an illustrious career as an Arroyo hatchetman. Perhaps Archbishop Cruz has forgotten to to include them in the scope of his pastoral care as he's too busy considering whether to give a suicide a Catholic burial.
On Tuesday, February 8 in Congress at what should have been the first and last Committee on Appropriations hearing for the RH Bill,  I watched Honorable Representatives Rodriguez, Nograles Jr. and Garcia sit quietly by as an advocate for another pending bill outright pleaded to the assembled congressmen to vote for its speedy resolution and approval. The bill was for the release of promised retirement benefits for combat veterans and the advocate was begging to have it passed before more of them died of old age. Not one of those three even bothered to raise their hands to second the motion.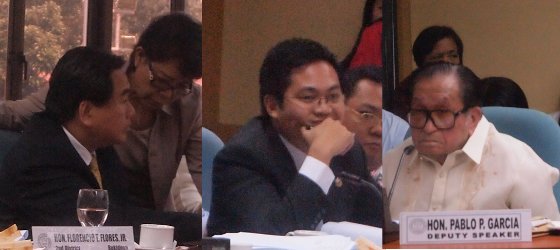 The bored, uninterested looks on their faces changed immediately upon hearing that it was time to discuss the RH Bill. Hon. Rep. Garcia, as he had done in this and every other congressional hearing on RH that he crashes (he's not actually on any of the concerned committees), bent on wasting taxpayer funded time spent a total of about half an hour in… his… halting… manner… of… speech belaboring technicalities and jurisdiction. Hon. Rep. Nograles smugly began his favorite game of posing ludicrously pedantic questions to the wrong resource speakers, ending with calling the Department of Health representative 'unqualified' to her face. Hon. Rep. Rodriguez, his voice forever raised, ranted against the evils of 'anti-contraceptives', not even pausing for breath as he, in a moment of pure class, shouted down the congresswoman beside him trying to reply.
Representatives Bello, Garin, Lagman and Espina tried to reply with reasoned arguments and scientific evidence, to little avail. Enough time was wasted that the Appropriations committee is now set to go to a second hearing on Wednesday next week.
Seventy-seven more dead women.
That's the death toll collected in the name of men like Hon. Rep. Garcia, who invoked the Lord's Prayer while denouncing the bill that might have saved these women.  This from the same man who at the last hearing openly mocked, laughed at, turned his back to then walked out on the representative from the Catholics For The RH Bill, incredulous that she could call herself a  true Catholic and still support the bill. As a practicing Episcopalian I for one am ashamed to call this man a fellow Christian. I've known some good people in the Catholic church, and civil people (ok, one lady) in the Pro-life movement- are all of them willing to stand by and accept a man like this as their champion?
Shortly afterward Hon. Rep. Rodriguez, wild-eyed and literally hand waving as he ignored every other provision, shouted that he would never allow artificial contraceptives in his district because he was a Catholic.
Maybe he was too concerned with ensuring himself a Catholic burial to remember the little things, like upholding a secular democracy for all faiths and for none. Like our newly minted coward of a President, he probably prefers quiet closed door meetings with senior Catholic church officials to dictate his policy on, ahem, withdrawals.
If the actions of men like these are what it takes to ensure a proper Catholic burial these days then you can shove my corpse down the same toilets that mothers with unwanted pregnancies keep trying to flush their babies down. At least there I'll rest in good company, sharing a septic tank with the products of a creed of ignorance and denial that has the gall to label itself Pro-Life.